The app is a print factory in the pocket linking consumers with 3D printing. Sculpteo adds value to a "service bureau" business proposition.
An iPhone app for designing and 3D printing custom iPhone cases is gaining attention as an example of how average people can take practical advantage of 3D printing. Sculpteo's free iOS app, 3DPCase, was named this week as an "Innovations Design and Engineering Awards Best of Innovations for 2013" by the Consumer Electronics Show. CES calls the app the 'Ultimate iPhone Case Builder.'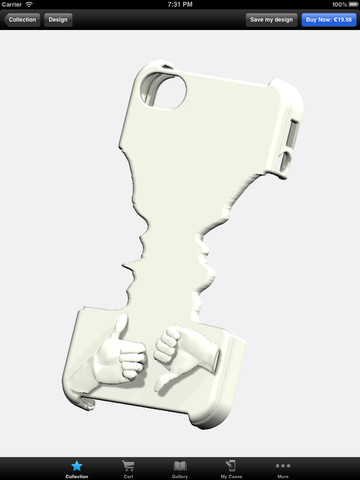 Sculpteo's free app guides the process with a template to which the user can add personal design elements. The result is a file ready to send to one of Sculpteo's many 3D printers in the US or Europe, which prints the case for $24.89.
Founded in 2009, Sculpteo offers customers a fully online 3D printing service and the opportunity to convert 3D files into 3D printed objects. The Sculpteo online platform is designed to make this new technology easy and accessible to all, by offering an e-manufacturing service on which customers can print objects in a range of materials, including gold and silver. Sculpteo delivers the final physical product from either its own 3D printers for from a legion of affiliated independent 3D printing service bureaus in the US and Europe.
Our take
Sculpteo was the first to offer the possibility for people to order a customized 3D printed iPhone 5 case even before Apple launched the iPhone 5. There was no need to wait for the typical suppliers to gear up production lines to produce a limited number of styles; eager consumers were in the driver's seat for creating a personal iPhone 5 experience before the device was in stores. We can only wonder how many used the Sculpteo app, printed the iPhone 5 case, and held it in their hands imagining life with the new phone.
Sculpteo's business model is to make 3D printing fun and accessible to average people, not just Maker types who fill their garage with power tools or turn their desk into an electronic workbench. This 3DPCase is not their only app for helping people use 3D printing, but it is the one gaining attention. We call Sculpteo a "3D printing service bureau" because that is a definition people understand. But Sculpteo is not really a service company; their goal is to be an experience company.
There has been a generation of talk about digital technology driving the growth of the service economy; Sculpteo is a pioneer in the emerging experience economy, using digital reality as the underlying technology to deliver a consumer experience. They are meshing social media tools with design software and 3D printing to deliver a digital reality experience.
More than offering a service to the end user, they are delivering an experience. Just as services add value to goods, experiences add value to services.