This new Ultrabook exceeds Intel standards with a carbon fiber chassis and extra durability.  
By the Mt. Tiburon Testing Lab team at Jon Peddie Research
ThinkPads have an interesting his­tory. The brand has a lot of lore behind it; first introduced in 1992 by IBM, it recently celebrated its 20th anniversary under Lenovo Corporation, which pur­chased it from IBM in 2005. With an original design inspired by a Japanese lunchbox, the first ThinkPad (Model 700) came with a 25-MHz 486 processor and a 120-MB hard drive, weighed 6.5 pounds, and cost about $4,350 (over $6,800 in to­day's dollars).
A lot has changed since 1992, but the brand (which originally met resistance in IBM boardrooms because it went against the company's numeric naming conventions) has maintained its cachet of standing for reliability, build quality, security, portability, usability, creative design, and subdued style.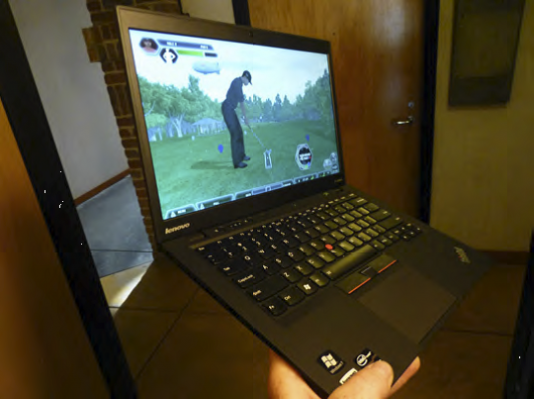 The X1 Carbon's aesthetics
The X1 Carbon is an aesthetic beauty in a "form follows function" kind of way. Its chassis is not bright and flashy. It's the black Ducati 1199 Panigale or Heckler & Koch MP5 of notebooks and gets the job done without a lot of fan­fare in its aesthetic impact.
Light handling and accurate, all these machines have the power to put away the competition with the right opera­tor. The masses can "think different" all they want, but some folks have no inter­est in being another brick in the wall of style or computing choices. MacBooks, at least in some neighborhoods, are gen­erally the standard laptop seen at a café.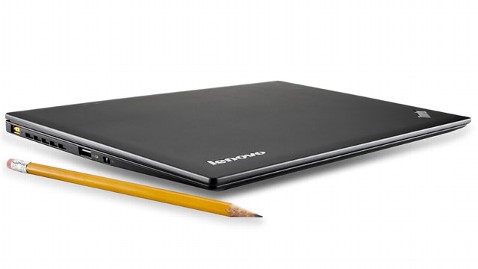 The X1 Carbon's design and features
The X1 weighs 3 pounds and is .71 inches thick; this exceeds Intel's Ultrabook required specs. It is achieved by using a carbon fiber shell and roll cage that is just as strong as aluminum but one-third the weight. Previous Think­Pads used magnesium roll cages. Car­bon fiber is 50% stronger than magne­sium and 50% lighter (and a bit more expensive). However, with it, the X1 passes eight Mil Spec tests for durability.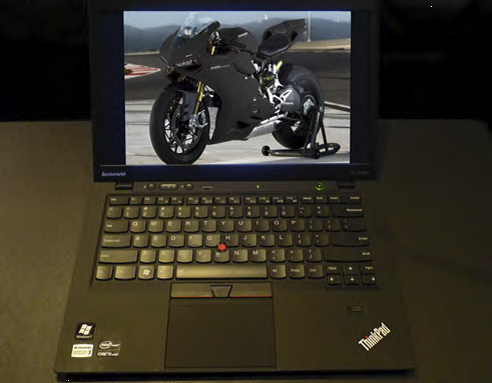 The keyboard is soft and respon­sive and includes very nice dual-level backlighting unlike the historical ThinkLight. We think this is an improvement
The multiple control options are an­other strong feature. The famous Track­Point red isometric joystick is still nes­tled between the G, H, and B keys. This controller is never jerky and requires less concentration to be accurate. In a mission-critical situation, you would want to use the TrackPoint because it is almost impossible to make an "input error," which is not the case with track pads. However, the multi-touch glass touchpad is a real joy for scrolling web pages, and it also has mouse clicks built in. The touchpad is great for more re­laxed cursor control when ultra-accuracy is not required.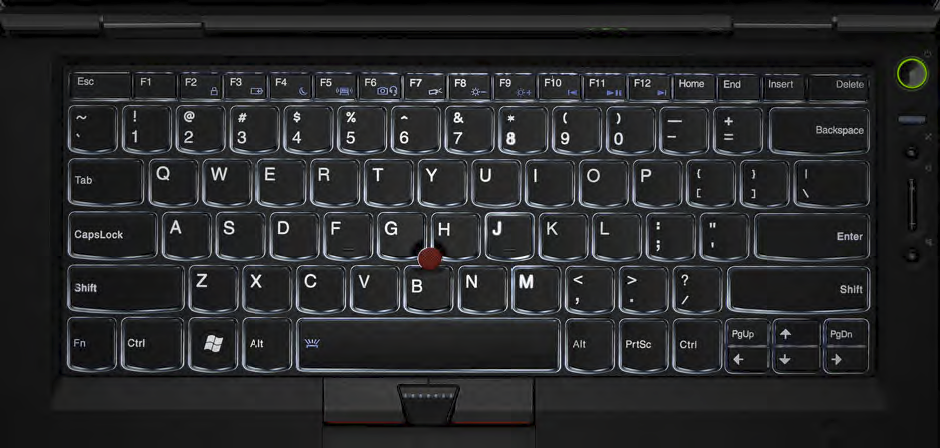 The battery and charging tech shows the benefit of industry advances. In 35 minutes you can get five hours of juice. Business professionals will really appre­ciate this.
CHARGE TIME             BATTERY         TYPICAL
CHARGE           AVAILABILITY
30 minutes                 70%                     Up to 4.9 hours
35 minutes                 80%                      Up to 5.6 hours
45 minutes                 90%                      Up to 6.3 hours
60 minutes                 95%                     Up to 6.6 hours
90 minutes                 100%                  Up to 7.0 hours
While most users are typically resis­tant to any manufacturer-installed soft­ware, Lenovo claims theirs will actu­ally protect against slower booting over time by managing the boot stage and ensuring it doesn't get cluttered up after many installations of various applica­tions. The software also uses RAM for a boot cache that makes an immediate impact on boot speed. They call these technologies RapidBoot and RapidBoot Shield. We timed the first boot of the machine, and it took 30 seconds. After first boot we uninstalled Norton, in­stalled Microsoft Security Essentials, Microsoft Office, Adobe Acrobat, and Tiger Woods Golf. I timed the start-up after all this, and for whatever reason, the boot time dropped to 25 seconds. So far so good.
There is a 720p web cam and in­stalled software for video conferencing (with the ability to share your desktop) and of course all the security you would expect in a ThinkPad including fin­gerprint scanning. Plenty of ports, one each of USB 3.0 SuperSpeed, always-on USB 2.0, Mini DisplayPort with audio, and 4-in-1 SD Card reader. While small notebooks are not known for high-fidel­ity sound from their tiny speakers, the Dolby certification actually does quite well for this machine and gives the best sound that could probably be achieved. The Dolby Home Theater Control Panel will also appease audiophiles who plug in their headphones with a spectrum analyzer, graphic equalizer, surround virtualization, and the ability to create custom pre-sets.
The important stuff
Obviously the machine is going to smoke any business application you throw at it. But how will hold up for a video game? Especially for what we call "executive games"… those that do not require rapid and sustained control movement, where one could get away with playing in a bored (oops board) meeting with no one the wiser if the volume is down. Of course for an execu­tive game we chose golf again, this time Tiger Woods PGA Tour 08 ($10 down­load from Amazon). Why not 2012? We are not here to bash EA, so we'll save that for another discussion. In order to get the game up to snuff on the X1 Carbon, one needs to run a widescreen patch available here: http://www.wsgf.org/article/universal-widescreen-uniws-patcher.
Set at 1600 x 900 (the Carbon's native resolution), we cranked all the graphics settings to High, and the game played gloriously with trees and grass fully animated and birds flying around. It looks great. We can officially welcome Intel to the big leagues in graphics. That said, it is disappointing that Ultrabooks are not meeting Apple head-on with dis­play resolution. Perhaps this is due to current limitations of Intel's integrated graphics. However, several Ultrabooks are being equipped with Nvidia discrete GPUs and can drive any size screen.
We will see how the machine fares in durability and if the boot speed shield works over time, but based on first im­pressions, we think we have a winner on our hands. New models will have touch screens designed for Windows 8.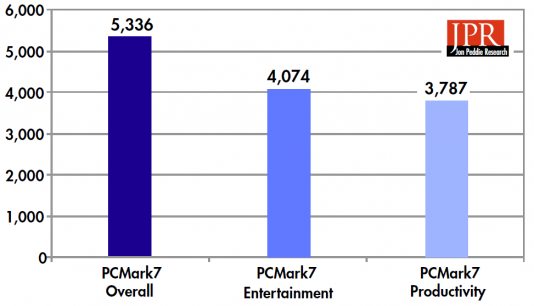 TEST                DESCRIPTION
Humidity         Relative humidity of 91% to 98% at 20 Celsius
Low Temp.      -20 Celsius for more than 72 hours
High Temp.     30 Celsius to 60 Celsius over seven cycles of 24-hour duration
Extreme          -20 Celsius to 60 Celsius over three cycles of 2-hour duration
Temps.
Sand                140 mesh silica dust exposure for 6-hour cycles
Altitude          Operation at 15,000 feet
Vibration        Multiple tests while running and turned off
Mech. Shock   High acceleration and repeated shock pulses over 18 times