Steve Wolfe explores the history and capabilities of the market-leading AutoCAD Electrical with a new competitor from SolidWorks.
By L. Stephen Wolfe, P.E.
[Editor's Note: This is the conclusion of Steve Wolfe's three-part report on SolidWorks Electrical. Links to the other articles in this series are at the end of this article.]
SolidWorks Electrical competes most directly with AutoCAD Electrical, although it has some capabilities not found in Autodesk's product. Both systems employ a drawing editor that stores data in the DWG format originally developed by AutoCAD. Both employ a Microsoft relational database for storing component and connectivity information. Both systems can be integrated with the 3D electrical routing software found in their respective 3D design products. Capabilities such as error-checking, automated wire numbering, terminal-strip editing, and report generation can be found in both systems.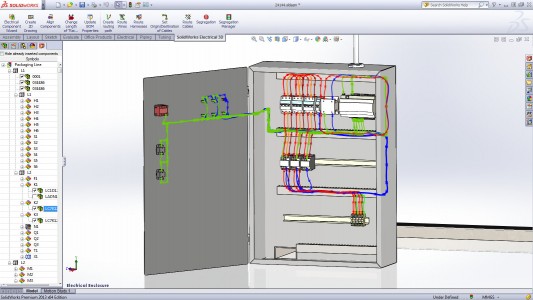 The most significant technical difference between SolidWorks Electrical and AutoCAD Electrical is that in the SolidWorks version, the relational database manages components and the wire list for both the schematic drawings and the 3D wiring model. So a change to the schematic or the wiring model, such as the addition or substitution of a component, is reflected immediately in the other document.
In contrast, AutoCAD Electrical stores only schematic data in its database. Components and wire lists much be transferred to the Inventor routed systems software via an XML file. Once transferred, the 3D model can be updated incrementally when changes are made. However, the process is neither automatic nor instantaneous.
SolidWorks' common physical and logical electrical database also enables engineers to bundle up all wiring information in a single project file that can be mailed to a fabricator or contractor.  In contrast, Autodesk's system requires two project files: one for the schematics and a second for the 3D wiring model.
SolidWorks Electrical uses Microsoft's SQL Express or SQL Server database, at the customer's option. AutoCAD Electrical employs Microsoft's single-user Access database, although data in it can be shared over a local area network. SolidWorks Electrical supports sharing over wide-area networks as well as LANs, which would make it more attractive to customers with engineers who are disbursed geographically.
The principal advantage Autodesk has over SolidWorks is list pricing. Suggested U.S. retail pricing for a node-locked AutoCAD Electrical license is $5,545 plus $705 per year for an upgrade subscription. That's $450 cheaper than SolidWorks up front and $990 less for annual maintenance.
Autodesk's Product Design Suite Premium lists for $6,495 plus $1,105 annually for maintenance. It includes AutoCAD Electrical, Inventor, and 3D wire and cable routing. In contrast, SolidWorks Electrical Professional lists for $9,995 plus the cost of a SolidWorks Basic CAD license at $3,995. That's about twice the price of Autodesk's comparable package up front and more than three times the annual maintenance.
International prices vary (usually upwards) and network licenses can help reduce the price differential between SolidWorks and Autodesk. Moreover, SolidWorks subscription prices include support from local dealers, while most Autodesk dealers charge extra for local support.
SolidWorks Electrical is a welcome entry to the engineering software market, providing needed competition for Autodesk's offering. If your electrical designers are still drawing wiring schematics with the likes of Microsoft's Visio or AutoCAD LT, the SolidWorks and AutoCAD Electrical products are worth a close look.
GraphicSpeak Managing Editor Randall S. Newton contributed research for this article.
[Editor's Note: This ends Steve Wolfe's three-part report. Links to the other articles in this series are below.]
Part 1: https://gfxspeak.com/?p=12894
Part 2: https://gfxspeak.com/?p=12901