A look at the latest vision from these visionaries.
By Joshua Volckaert
Augmented reality is not just a buzzword. It is a reality, and one that continues to develop. We are perched on the edge of the AR precipice, ready to take the leap into immersing ourselves within virtual worlds like never before. One device that is likely to hasten that immersion and push the boundaries of how we define augmented reality is Magic Leap 2.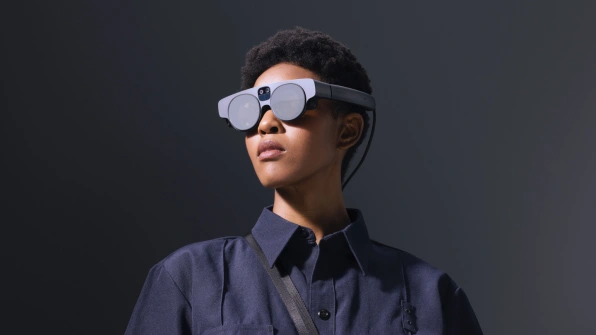 A sequel should do everything it can to improve upon the original, and from the very first glance, it already has with the Magic Leap 2. The original Magic Leap headset already was a slimmer device compared to its peers, but Magic Leap 2 trims off one extra layer of fat, allowing for a far more comfortable fit. In doing so, the company has cut the size and weight of the original by 50% and 20%, respectively—with the new device weighing 248 g compared to the original's weight of 316 g.
Complemented by an adjustable headband, this latest iteration of Magic Leap is putting comfort first. The field of view (FoV) has been significantly improved, expanding from Magic Leap 1's 50 diagonal degrees to a reported 70 degrees. Seeing is believing after all, and Magic Leap 2 seems determined to make users see everything they need to see when they enter the world of augmented reality.
But an even greater testament to how far the company has been able to advance the technology is how good the product can look. At the June 2022 Augmented World Expo (AWE), Jade Meskill, head of product management, made it a point to highlight the "elegant and tasteful design of Magic Leap 2." And the Magic Leap 2 does live up to Meskill's description. Soft round curves beckon the user, ensuring that the device's shape will rest gently on their face. This design offers flexibility and comfort, while guaranteeing efficient and accurate work.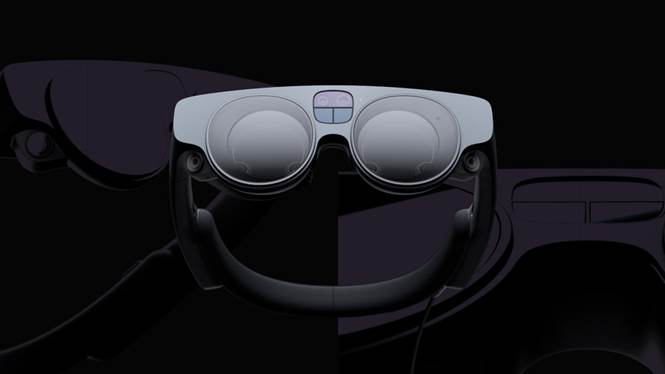 Behind the glass
 But surely comfy nose pads and elegant curves aren't all that the Magic Leap 2 has to offer. How does the machine look on the other side of the glass?
One of the many impressive advantages the Magic Leap 2 offers is its global and segmented dimming capability. This function allows users to manually decrease how much light is filtered through the device's lenses. But instead of just dimming the entire display, dimming can be applied to individual segments of the lenses.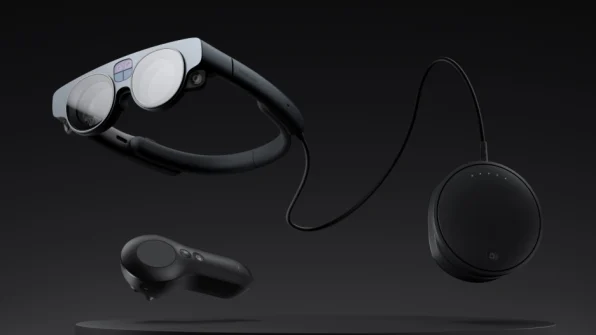 But what is it that makes this offering tick, and how does it work? The lenses themselves are impressively well crafted. Layers upon layers of different types of lenses are compacted together:  depolarizers and reflective polarizers, front refractive lenses, dimmers, rear reflective lenses, and eye-tracking LED layers. All these lenses soak in their surroundings and work together to give the user everything they need to see projected 3D objects on top of the real world. Coupled with the 18 different cameras and sensors, including, but not limited to, two eye-tracking cameras, one front world camera, a pair of side world cameras, and more—all these features enable this little package to open up a world of possibilities.
A computer like this, however, requires a lot of power. That is why Magic Leap 2 is fueled by some of the most high-end drivers and processing units, all compacted into a wired compute pack that is, according to Meskill, "two to three times more powerful than Magic Leap." These include a quad-core AMD Zen 2 x86 CPU, 14-core CVIP engine, AMD GFX10 GPU, 16GB LPDDR5 RAM, 256GB NVMe drive, and Bluetooth compatibility.
Of course, what is the use of augmented reality if you cannot control what's in front of you? The Magic Leap 2 controller hands you that control. Utilizing new infrared and optical 6DOF tracking, it is possible to see where the controller is outside of the normal FoV. And with Magic Leap 2's built-in inertial measurement unit (IMU), even more data about your surroundings is at your disposal.
Who's connected?
According to Lisa Watts, VP of product marketing and developer programs at the company, the Magic Leap 2 development platform will be more open than the earlier version, embracing OpenGL, WebRTC, and Java (and Java Virtual Machine), and will support OpenXR, Vulkan, and WebXR APIs in the fall of 2022. This is meant to promote a much healthier ecosystem in the industry by sharing the technology with like-minded developers so that progress can flourish.
"We want to put developers at the heart of everything we do," said Meskill. And their approach to handling privacy only enforces that statement. Thanks to the integration of Android Open Source, plenty of third-party MDMs are at the disposal of developers. They get to decide how their privacy policies work, when software updates roll out—all of it is under their control. A quick scan of a QR code ensures efficient installation of any MDMs the user wishes to integrate into Magic Leap 2. This goes for their AR Cloud system as well.
In his AWE presentation, Meskill makes it clear that "Magic Leap wants you to set the rules on where and how that information gets used. Your data never comes back to Magic Leap." But their AR Cloud is not limited to only Magic Leap devices, so you can share your cloud with anyone.
It is clear that Magic Leap 2 is not a simple VR headset used for Beat Saber or Half Life: Alyx. It is a device that will help businesses around the world achieve goals with effectiveness and efficiency. The results are already speaking for themselves. Medical advancements are being made with Magic Leap 2; virtual surgeries allow surgeons to prepare for an operation well in advance so that they are ready to save lives. Industry training is also on the table, allowing information and recorded data to be transferred from worker to worker as they come and go. Generations of knowledge can be passed down, all thanks to the magic of Magic Leap 2.
The virtual realm is at our fingertips because of this technology, with every camera and sensor working in tandem with each multilayered lens to ensure users are in the know with everything they need to know. Health-care providers have already put this tool to good use, but the surface of its potential has yet to be scratched. The tools users have to traverse this digital space will take them even further than this as developers find more ways to use Magic Leap 2, push even more boundaries, and show the world what augmented reality truly looks like.
With such impressive features, it is no wonder why Magic Leap 2 is one of the most highly anticipated augmented reality headsets of the season, but it won't be the only system on the market. Apple's widely discussed AR glasses are expected later this year. There are others, too, that are working on this technology, and a number of them with names you know, not the least of which is Nvidia. As for Magic Leap, it has not revealed a set date or price for their new headset, but according to Mayank Sharma from tomsguide.com, the Magic Leap 2 will exceed the original's $2,259 price tag and will most likely see a 2022 release.
 What do we think?
It seems that Magic Leap 2 is poised to take the market by storm. Compared to its current competitors, such as Oculus Rift and others, Magic Leap 2 is a standout headset. But as we know, there are other new glasses and headsets on their way, as well. One thing is clear, though: The design of Magic Leap 2 alone is enough to prove that aesthetics do matter, in more ways than one, pushing us to find out how to make products more streamlined, more compact, more compatible with day-to-day life. This design choice will most likely lead to more widespread adoption for Magic Leap 2, as users will no doubt appreciate the lack of bulk and limitations previous headsets were subjected to. I would not mind picking up a Magic Leap 2 headset at some point, to see the world through augmented eyes.