KTM used Creo to replace the familiar five-spoke design with a lighter configuration. Simulation during design was a key to success.  
Olaf Seger, an engineer at KTM, just reinvented the wheel. To be more specific, he designed a new wheel for the 2013 KTM 690 Duke, a powerful single-cylinder motorcycle used in racing and road riding.
"The KTM 690 wheel introduces a new generation to the product line," says Seger. "Going forward, KTM will use these wheels on many of its new models." The 2013 design is strong as ever. But visibly, you can see that the familiar 5-spoke design has been replaced with a less traditional configuration, a lighter one.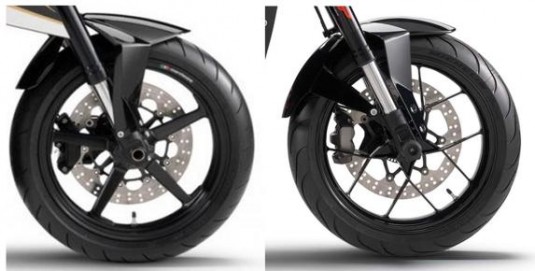 That's no small accomplishment in the world of racing bikes. In fact, Seger says that redesigning the wheel was one of the greatest challenges on the 2013 model. Even microscopic changes to the design had enormous effects on the life of a wheel as well as its performance. One wrong dimension, even a small one, and the whole component can fail.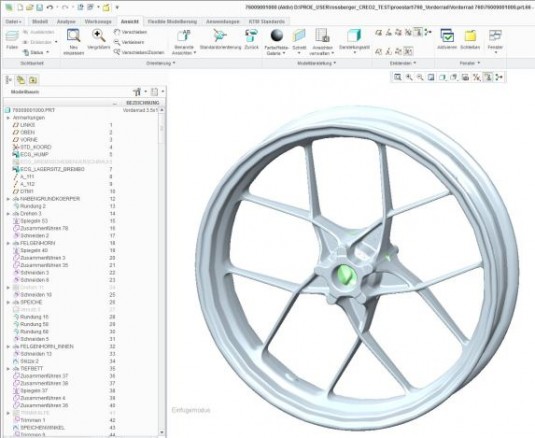 On the other hand, with a smart tweak here and there, the result is a lighter responsive wheel that helps maximize power to weight, lower potential vibration, improve stability and drive fuel efficiency up.
Prohibitive prototypes
The new wheels required a lot of testing. So much testing that prototyping would have become prohibitively expensive and delayed development by months. To save both time and money Seger used PTC Creo Simulate. "With PTC Creo Simulate, we save a lot of time because we can check within approximately an hour whether a design change was successful," says Seger.
The design team can then repeat simulations easily, too. "If you set parameters accordingly, you don't have to worry about ongoing design changes," he says. "The program checks them automatically."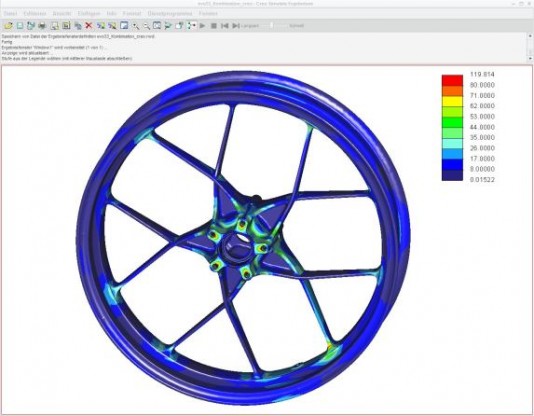 With these frequent simulations, the team reduced expensive prototypes, experimented more, and ensured that they had created wheels that were both lightweight and would endure on the road for a very long time.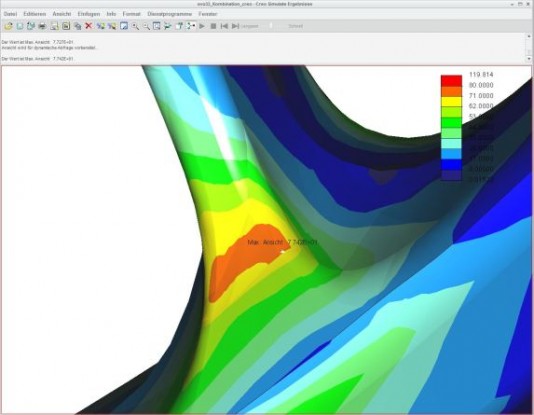 Changes Throughout
One of the biggest challenges to redesigning the wheels was synchronizing work with changes that were taking place in the rest of the bike. The seat, twin plug head, exhaust—nearly everything was reconsidered for this model. To help ensure that all those separate activities didn't lead to conflicts, the KTM team used PTC Windchill data management.
"With PTC Windchill data management, we're always up-to-date with the data and the work of the other engineers," says Seger. The software helps engineers avoid mistakes, because "you usually realize pretty quickly what another engineer is currently working on, i.e., what his current design status is."
The result?  "Well, it's fantastic to ride the bike you've helped design yourself, where you know how it came about. Every time you ride it, you're filled with pleasure." 
The video below is a review of the KTM 690 Duke.