The free tool adds a fully ray traced viewport to Rhino; adding Caustic's board to the mix supercharges the rendering.
Rhino 3D, the popular 3D modeling tool, now has a plug-in to provide a ray tracing viewport. Neon is a full ray-traced viewport plug-in for Rhino 5 developed in collaboration with Caustic Professional, a division of Imagination Technologies. Caustic recently launched two ray tracing accelerator cards, which this plug-in supports.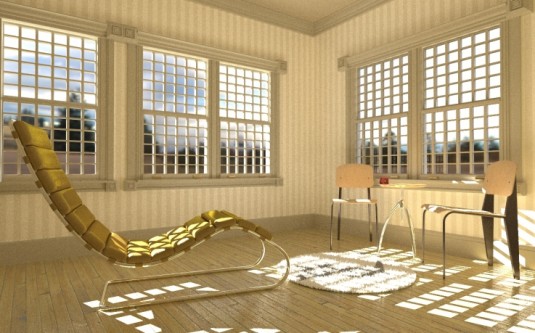 Rhino users who download the free plug-in get a working viewport called "Raytraced with Neon;" there is virtually no additional user interface. Anything a Rhino user would do in any viewport can be done in the Neon viewport, with the added benefit of seeing it as a ray-traced rendering thanks to Caustic's Visualizer technology.
By itself Neon adds slick full-time rendering to Rhino; the addition of a Caustic ray-tracing acceleration card supercharges the process. Rhino publisher McNeel and Associates estimates the add-in board provides a 4x rendering boost. We've covered the Caustic boards before; they ship with a driver for Autodesk Maya. (See, "Caustic introduces ray-tracing accelerator boards.")
Neon can help a designer quickly evaluate and establish form, color, texture, lighting, and material requirements of a scene very early in the design process, without interrupting design workflow. The plug-in and the board support real-time dynamic range reflections, transparency, high quality sky-lighting, true procedural textures, all in real time.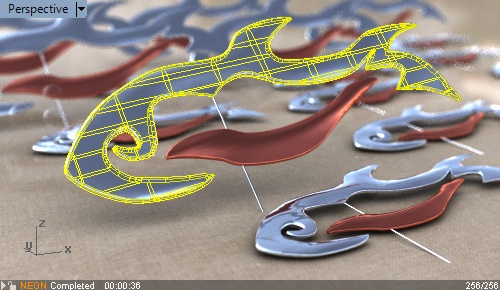 Our take
This is the first CAD application to add Caustic's ray tracing technology, and the first application of any kind to support it since the launch of the add-in boards; it certainly won't be the last. The process was fast-tracked by using OpenRL SDK, Caustic's ray tracing library specification. It includes Caustic's OpenRL Shading Language which provides run-time compiled programmable shaders. It is similar to OpenGL for rasterization, a framework for writing applications that execute across heterogeneous compute platforms.