Slammed by currency fluctuations and the move to subscription income, PTC needs its big Internet of Things story to kick in.
By Randall S. Newton
After a pop-the-corks fourth quarter (See "PTC says the plan is working"), PTC today reported a lackluster first quarter for fiscal 2015 (ended January 3, 2015). Total revenue for the quarter was $325.4 million, essentially flat compared to 1Q14. Net income dropped 24% from a year ago, to $30.2 million.
PTC CEO James Heppelmann cited a number of factors impacting the quarter: a wild quarter for global currencies; slowing economies in Asia and Europe; and PTC's ongoing shift to subscription-based revenue. He didn't mention the let-down every software company experiences in its first quarter, after the sales force works overtime in the fourth quarter to close as many deals as possible, but everybody does that.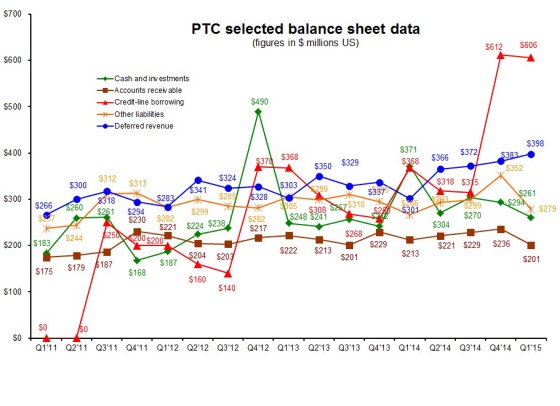 PTC says major currencies shrinking against the US Dollar "unfavorably impacted revenue" by $12.3 million. The end of the currency hurricane is not in sight, if PTC's example is normal. For the first quarter, its average exchange rate was $1.27 per Euro. For next quarter it is forecasting $1.14 per Euro. Heppelmann says every $0.10 move on the USD/Euro exchange rate will impact annualized revenue by approximately $35 to $40 million. PTC told analysts on is quarterly conference call the company has to respond to this new reality soon. Raising prices either regionally or globally is one possibility they will consider.
Heppelmann says the shining star of the quarter was its new Internet of things (IoT) line, created by the acquisitions of Axeda and ThingWorx in the last 13 months. The IoT line is now "material," Heppelmann says, meaning it is contributing at least 5% of company revenue.  Most IoT revenue is by subscription, meaning much of the revenue is deferred. For 1Q15 IoT revenue was $9.5 million, with no year-over-year comparison available. Sequentially, IoT revenue was up almost 30% from 4Q14.
Like most of its competitors, PTC is moving toward subscription revenue as its primary source of income, instead of the traditional sale of perpetual licenses. To explain the growth so far, Heppelmann said subscription revenue provided 1% of annual income in FY13 and 8% in FY14; PTC forecasts subscription revenue will contribute 15% of total revenue in FY 15. In the 1Q15, it was higher than the annual forecast, at 19% of total revenue.
Digging deeper into revenue for the quarter:
License and subscription revenue was $78.9 million, flat compared to a year ago;
Support revenue was $181.6 million, up 7% from 1Q14;
Services revenue was $64.8 million, down 14% from 1Q14.
Revenue by regions:
North America revenue was $136.1 million, down 2% from a year ago;
Europe revenue was $128.2 million, up 1% from 1Q14;
Asia-Pacific revenue was $61.1 million, up 4$ from a year ago.
PTC tracks revenue from large transactions (single sales over $1 million). During the first quarter, PTC recorded 15 such large transactions, bringing in $25.8 million. The number of large transactions in the quarter is about half the number recorded both in 1Q14 and 4Q14.
A few numbers we don't usually report:
CAD seats under maintenance: 249,000;
Extended PLM seats under maintenance: 1,722,000;
Service Lifecycle Management (SLM) seats under maintenance: 118,500.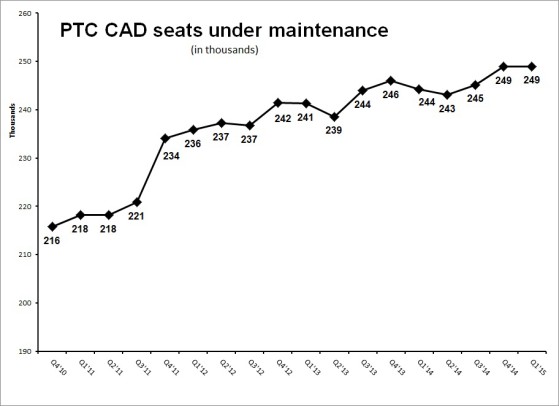 Seven more of our custom charts follow. For larger versions, see our Facebook page.
Stephen Wolfe, P.E., a contributing analyst for Jon Peddie Research, provided research and his usual legendary insights for this article.