The company that introduced parametric 3D CAD now wants to guide manufacturers through the transition to digitization of strategic processes.
An exuberant James Heppelmann took the stage at Planet PTC Live 2012 this week in Orlando to tell 2,000 customers how his company will take them beyond complex geometry and well-organized engineering data. Along with his lieutenants and some customers, CEO Heppelmann rolled out a new mission for the company that invented 3D parametric CAD.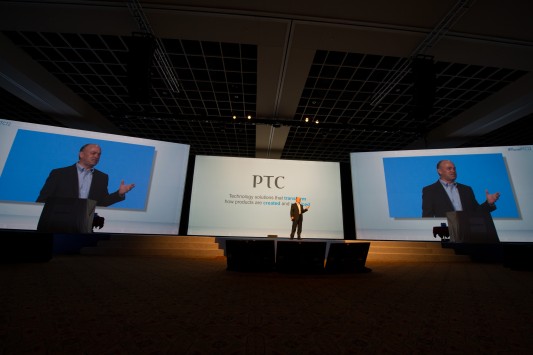 For most of the past decade PTC has been a two-trick pony, with Pro/Engineer CAD and Windchill PLM. In recent years Pro/E was showing its age, and is now being given a massive overhaul as the renamed Creo. Windchill is surprisingly competitive among the big three enterprise PLM vendors, having won a highly publicized competitive selection process by EADS, the parent company of Airbus, several years ago. Now as a result of several years of acquisitions—some of which at the time seemed a bit odd—PTC is declaring itself the best company to help manufacturers embrace what some are calling the third industrial revolution, the complete digitization of strategic manufacturing processes, from initial design to sales and service.
"We are reaching the limits of the competitive edge these investments can deliver," Heppelmann said. "Manufacturers need to be operationally efficient to stay in the game, but they can no longer achieve meaningful advantage from that alone. The time has come for a new source of competitive advantage—product and service advantage—from technology and process change that improves strategy decision-making across the enterprise, from engineering to the supply chain to sales and service networks."
Heppelmann then presented PTC's new mission statement, "technology solutions that transform how products are created and serviced," and introduced the recent company reorganization. Specifically, PTC has established five internal divisions to develop and sell its technology solution strategies for product lifecycle management (PLM), computer-aided design (CAD), application lifecycle management (ALM), supply chain management (SCM), and service lifecycle management (SLM).  The change, and the new growth market for PTC, is the "and service" part of this new mission.
PTC will be pitching its software, which now includes such varied brands as Integrity MKS, Arbortext, and Mathcad, to three operational groups in manufacturing:
Hardware and software engineering
Supply chain and manufacturing
Sales and service.
Heppelmann says for each there is a strategy side and an operations side. PTC sees the strategy side as their territory, leaving the operational details to the Enterprise Resource Planning (ERP) software vendors like SAP, Epicor, and Oracle.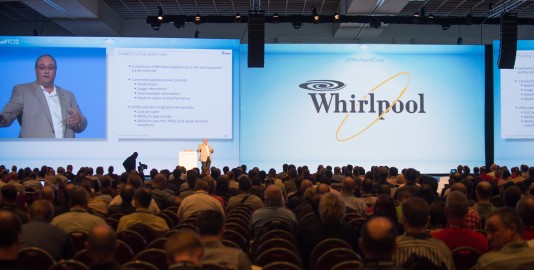 In a later talk with the media, Hepplemann expanded on the vision. CAD is a mature market, he said, while PLM is a good business to be in right now, even though there is plenty of competition. But the ALM, SCM and SLM markets are both wide open and CAD agnostic. It doesn't matter to a tractor manufacturer trying to organize its software engineering as part of its manufacturing workflow if PTC sells Creo but they are an NX house, the problems are the same and the solution set from PTC—mostly the software acquired in the Integrity MKS acquisition—works equally well.
Still grinning after all these years
Those of us who have been in the CAD/PLM business long enough remember the day when a call from the PTC sales team was similar to a knock on the door at 2:00 am from the Gestapo; either you complied or there were consequences. More than once a spurned PTC sales person wrote a letter to a manufacturing CEO telling him what stupid employees worked for him, because they didn't buy Pro/Engineer. We were assured years ago that PTC has changed its ways; one junior executive at COFES several years ago described the change as "the new kinder, gentler PTC." Indeed, we haven't heard a horror story about a PTC sales engagement in a very long time.
If there are any sales personnel from those old days still with PTC, this new focus on five strategic markets may bring back those smiling sharks. The full automation—or shall we say digitization—of manufacturing has a long ways to go. CAD may be a mature market, but there is still plenty of room for improvement and optimization. (In a second article to come in a day or two we will explore the new Creo Options Modeler, software which one PTC employee described as "where the miracle happens.") PLM is competitive, and there is plenty of pie in the sky lately with the new market entry Autodesk 360 PLM. But many manufacturers are not ready, at least emotionally, to embrace the cloud revolution, and Windchill is still gaining ground in the market. Plus, PTC launched a version of Windchill for the cloud almost three years ago; there were few takers. When the mainstream of manufacturing is ready for the cloud, PTC will be waiting.
The other three markets are an intelligent sales person's dream: the chance to sit down with a customer and explain how automating these very necessary parts of the manufacturing business bring immediate value to the organization and revenue to both the bottom line and the top line.