Windchill Mobile for iOS, first previewed a year ago, is now available.
PTC has released its first app for the iPad and iPhone, Windchill Mobile, a viewing portal to product data stored in Windchill PLM.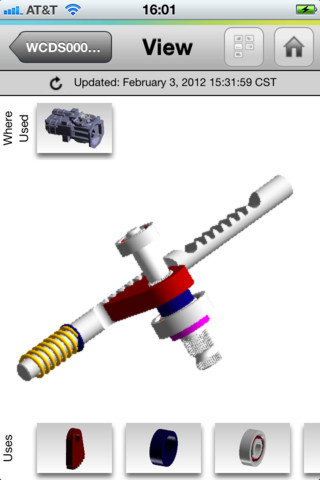 The app is the first we've seen with "shake-and-break" functionality. When an assembly is on the screen, a quick shake of the device explodes the view into it separate parts. The user can then zoom in on a specific part or sub-assembly. Another shake and the parts re-assemble.
The app was first shown to the press one year ago at PlanetPTC Live, and received collective "oohs and awws" from the group when the shake-and-break feature was demonstrated. Part of the delay in releasing the app was timing, as PTC wanted to match the app to the most current version of Windchill.
Key capabilities:
Securely connect to Windchill via mobile broadband or WiFi
Search for products, documents, and other related product information
Browse through product structures to see product details and all components
Use familiar multi-touch gestures to interrogate 3D mechanical models
Examine exploded views and related components in 3D
View related product material such as attributes, changes, and documentation
View and complete tasks.
Windchill Mobile is compatible with Windchill 10.0 M30, Windchill 10.1, and later versions of Windchill. PTC recommends Windchill administrator contact PTC directly to make sure their Windchill server is configured with the optional module to enable it to work with Windchill Mobile.
More information on the free Windchill Mobile app is available at its iTunes web page.