Lasermade and Lantek tools and services allowed intelligent automation of the project.
As part of the 18th Biennale of Sydney, artist Carlos Garaicoa conceived Project Fragile (Cockatoo Island) 2012, as an installation which takes Cockatoo Island in Sydney Harbor as its reference point together with the skeletal remains of surrounding historic buildings which serve as reminders of Sydney's past.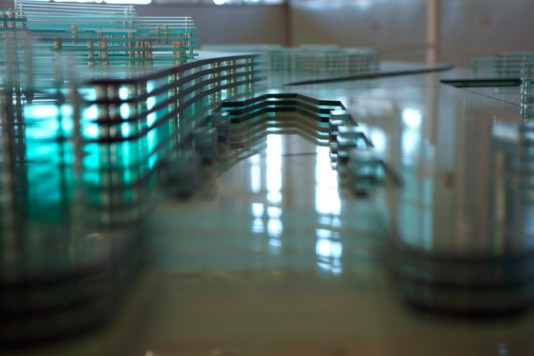 Constructed entirely from glass, the ghost-like model of the island stands in Building 10 on Cockatoo Island, originally a penal establishment and later the Commonwealth Naval Dockyard, in a room formerly used for ship design and planning. As is often seen in Carlos Garaicoa's work, Project Fragile is a subtle critique of the island's modernist utopian heritage and, perhaps, of its failings as a twentieth-century ideology. This fits with the theme of the exhibition, which focused on a growing movement in the art world concerned with how things connect—how we relate to each other and to the world we inhabit.
To produce the installation, the festival project directors approached several profile cutting companies, and selected Lasermade based in Thonleigh in northwestern Sydney. The company has been manufacturing architectural, engineering and signage parts for 24 years using CNC machinery. Its equipment includes nitrogen and CO2 lasers, engraving lasers, high pressure water jet profilers, CNC router/mills and a plasma cutter. Works Director Daniel Vale says, "The special characteristics of our water jet machine made it possible for us to take on this daunting project."
Lasermade has recently updated its Lantek CAD/CAM system and it used the nesting facility in the software to optimize the layout of the hundreds of glass components which made up the artwork, maximizing material utilization. It was then able to automatically generate the CNC code for its water jet machine. As well as working to a tight completion deadline, the company also had to prepare special packaging for the delicate glass components. Daniel Vale adds, "We are proud of our achievement in delivering this project on time. Our skills in logistics helped us to transport the large and fragile panels safely across Sydney and onwards by barge to Cockatoo Island. There we handed them over to the festival team for assembly and display at the exhibition, making a link between modern technology and art."
Carlos Garaicoa and Lantek share a common Spanish heritage. The Lantek software is developed and marketed from the company's headquarters in Vitoria-Gasteiz northern Spain and sold throughout the world. The artist resides in Madrid and Havana and has exhibited his work in the USA, France, Ireland, Italy, Brazil, New Zealand and Germany.