Animations can be exported to PowerPoint, PDF, Word, or HTML. A paid version provides advanced authoring capabilities.
NGrain makes software for creating maintenance and training documentation. They recently released NGrain Producer, a free "personal learning edition" product for creating interactive 3D animations and real-time practice tasks.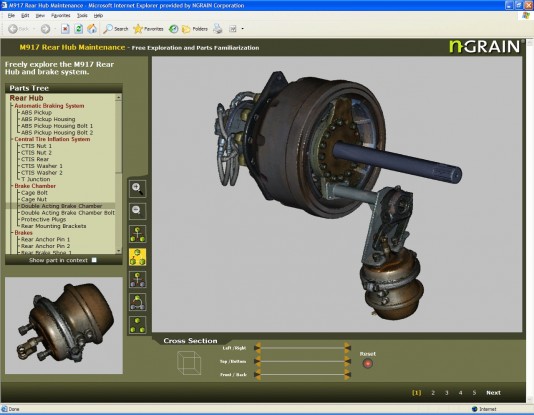 NGrain Producer users can create and update NGrain 3D Knowledge Object (3KO) files, interactive 3D simulations that contain and visually communicate knowledge about the equipment system they represent. Producer allows users to:
Work with 3D models created in any Digital Content Creation (DCC) or Computer-Aided Design (CAD) program
Import 3D data to the compressed, interactive NGrain format using industry leading tools, or the NGrain VRML2 converter (available at no cost from the NGrain website)
Create and update animations and interactive practice tasks using a visual "click and capture" storyboard
Add equipment knowledge, such as part details and links to reference materials, to support training and on-the-job performance for complex equipment.
NGrain Producer is a functional subset of Producer Pro, which provides access to advanced 3D authoring capabilities and feature sets, including interactive fluid flows, part constraints, callout hotspots, inverse kinematic animations, and the ability to export animations as videos. The Vancouver, Canada company also publishes a suite of related products for complete production and publication of 3D tutorials.