Oregon-based Planar Systems is hoping occasional users of technical 3D, such as management in geospatial or mechanical engineering, will be their customers.
Planar Systems introduces the SA2311W, a 23" 3D-ready desktop monitor, priced at $449. Planar is positioning the SA2311W as a single monitor entrée for the consumer market and an added option for the professional market, with an eye to geospatial and other technical graphics markets. The target audience is occasional users of technical 3D.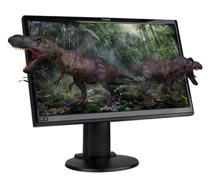 This monitor is "3D ready," which means you also need an Nvidia 3D Vision Kit ($199) and a supported Nvidia Quadro graphics card to display 3D; otherwise it's just another 2D monitor. A bundle of the monitor, the vision kit, and a backlit keyboard is $820.
With all the pieces in place, the SA2311can display 1920×1080 resolution stereo images. Planar claims the stereo image quality is the "best available" for frame sequential 3D technology.
The Planar SA2311W monitor will be available for delivery beginning in December. More information: www.planar3d.com.