Bentley Systems is the first company to sign up for the consortium. Many companies don't consider Google Earth a suitable tool for professional geoengineering applications.

 
Analytical Graphics Inc. and Bentley Systems are announcing the creation of the Cesium Consortium, to provide for both open source and commercial applications of Cesium, an open source, browser-based virtual globe.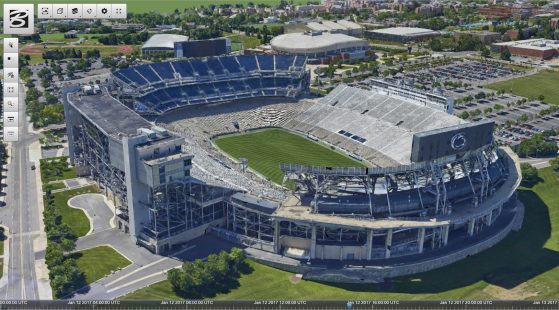 Cesium was first developed by Analytical Graphics (AGI) in 2011 for the aerospace and defense communities. Today it is open source and browser-based, using WebGL as its display technology. In its About page, AGI describes Cesium as an open-source JavaScript library "for world-class 3D globes and maps. Our mission is to create the leading 3D globe and map for static and time-dynamic content."
Bentley Systems says it is adopting Cesium to extend its "reality modeling"  initiatives. Bentley's ContextCapture technology for acquiring geospatial data will be the first to support Cesium. "I commend AGI for their leadership and vision, not only for creating an open source solution for highly performant 3D web-based applications but, more importantly, for fostering an ecosystem to leverage it," says Keith Bentley, co-founder and CTO of Bentley Systems. "I expect Bentley and our users will build Cesium-based Web clients for immersively viewing BIM models, reality context, asset databases, IoT streams, and myriad other 'Geo3D' services." Adds Patrick Cozzi, Cesium founder: "Bentley's support will be key within our submission team proposing 3D Tiles as an OGC Community Standard."
Data created with both Bentley MicroStation and ContextCapture can be exported to 3D Tiles, an open format developed by the Cesium team to stream massive geo-coordinated 3D datasets. By using Cesium, Bentley products will be able to stream digital engineering models over the Web to desktop and mobile devices.
What do we think?
Creating a consortium will allow Bentley to collaborate on the Cesium roadmap.  3D Tiles is being proposed as an Open Geospatial Consortium Community Standard. Being part of the creative team behind 3D Tiles will help Bentley take a leadership in the development of streaming applications for geospatial data. The datasets can be massive; any vendor seen as an expert will have a leg up on the competition.
For a variety of reasons, Google Earth has never worked out as a common platform for professional geospatial use, especially in engineering — one more reason to create an open alternative.