INFA now creates electronic reports smaller than CAD files yet containing a wider variety of content types.
INFA is an engineering, construction, and manufacturing company which provides custom, on-site mineral processing. One of its largest clients is a gold and silver mine in the Santa Cruz region of Argentina. The engineering team recently upgraded its documentation workflow to take advantage of 3D PDF.  The company says it has improved communications with clients when sharing 3D CAD designs.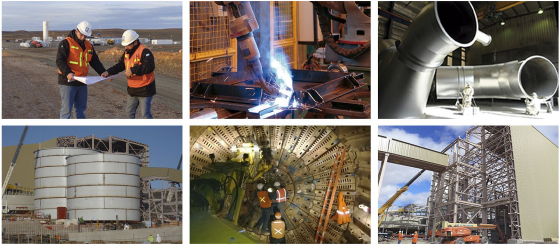 "We mostly send 3D PDF documents to our customers to avoid heavy .dwg files – it's pretty useful in that way," says Gaspar Ezequiel Vergani, a mechanical engineering drafter at INFA. "On mining infrastructure projects, we frequently send 3D designs of equipment, piping and 3D layouts/arrangements of the mining processing plant."
INFA now uses 3D PDF for a wide variety of engineering communications for oil and gas, and aluminum factory design. The company realized communications with remote clients using only 2D was becoming too inefficient. Located at the southern end of South America, travel distance between sites is a real challenge. "So when we send a 3D PDF this avoids needing specific software — they can see it with the free Adobe Reader. Plus, with a phone call we can make the client understand what we are saying in a much faster and easier way," says Vergani.
The INFA gold and silver plant engineering project sits on the Deseado Massif in Santa Cruz Province, Argentina. The Deseado Massif is predominantly formed by volcanic rocks of Jurassic age and is host to several epithermal gold and silver deposits. The area is well known for active hot springs and geothermal vents. With that terrain comes some big data.
The size of DWG files range from a few Kb to over 100 Mb. For the more complex 3D files, Vergani says the reduction of file size by using PDF was greatest when the reports were created using PDF3D ReportGen from Visual Technology Services (VTS).
INFA actively uses Autodesk software for the industrial processing plant design work, specifically AutoCAD (classic, mechanical and civil), AutoCAD Plant 3D and Inventor. For Civil and BIM orientated projects INFA creates 3D PDFs from Tekla-generated DWG files using PDF3D ReportGen from VTS.
"Using the Spanish language options in PDF3D ReportGen lets me concentrate on the important 3D design issues rather than the menus," adds Vergani.
To engage social and educational interest in the communities outside of INFA, Vergani sometimes uses animated 3D PDFs within a PowerPoint presentation.