Real-time rendering and Microsoft Kinect hooks offer new ways to examine products in Altair HyperWorks.
Microsoft's decision to provide easy third-party access to its Kinect 3D scanner continues to reap benefits years later, far beyond its gaming roots. The latest wrinkle marries augmented reality and product simulation.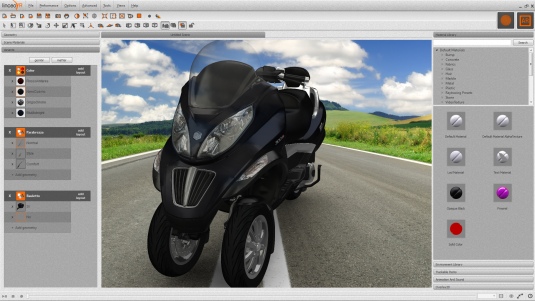 LinceoVR from Seac02 renders 3D models in real time and then uses Microsoft Kinect as a tracking device to present the product in virtual reality settings, mixing live images with the physical model. Seac02 today joined the Altair Partner Alliance, bringing this new take on simulation to Altair HyperWorks users.
The software enables users to share 3D models in new digital media through both virtual and augmented realities. It employs a drag-and-drop interface for working up customized on- and off-line scenarios. The software incorporates all the necessary aspects to accomplish this, including materials, geometry visualizations and lighting visualizations. The results, Seac02 says, "turn existing content into a nearly tangible product within an interactive experience."
"LinceoVR will enable our engineering and design customers to visualize their concepts and products in real-world environments and even interact with them," said James Dagg, Chief Technology Officer at Altair. "This will take product design to a whole new level and is the perfect addition to our 3D modeling and visualization software lineup."

LinceoVR includes a variety of integrations and compatibilities with Microsoft Kinect to help create its augmented realities, along with numerous trackers, such as marker tracking and natural feature tracking. In addition to real-time rendering, the software is capable of background subtraction and substitution (e.g. green screen), video recording, custom overlays and more. The software includes environmental variables as reflections, backgrounds, materials, effects and sounds, all within a 360° rotation navigation system available on any axis, and a camera path editor and player. LinceoVR can also create and manage geometry and material variants. Seac02 says the software supports most standard 3D import file types.
Altair is hosting two introductory webinars for Seac02 on April 3, 2014 at 9:00 a.m. and 1:00 p.m. US Eastern Time.