The integration brings continuous delivery to game and film artists through integration with leading 3D creation tools.
Continuous Delivery is gaining favor in software development as a way for distributed teams to work together on large assets including code, documents, video, images, and more. One of the leading software companies enabling Continuous Delivery is Perforce, a vendor of versioning management tools for software development. Today Shotgun Software says it is integrating Perforce technology into its eponymous media development management system, to embed Continuous Delivery into game and film content development.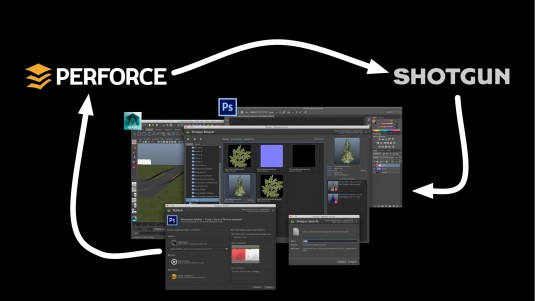 Because Shotgun works with leading creation tools including Adobe Photoshop, Autodesk Maya, Side Effects Houdini, The Foundry's Nuke, and others, Continuous Delivery workflow can be integrated at the artist level, not left only to producers and other workflow managers.
The integration of Perforce technology comes as a free upgrade to Shotgun Pipeline Toolkit for all clients. The integration uses Shotgun's open development platform, making it possible for users to tweak the installation to suit their needs. Shotgun claims the integration "provides game studios with a cohesive art and asset pipeline that links tracking, scheduling, publishing, review, and more with Perforce source control, directly from within the tools artists use every day."
Using Perforce technology inside Shotgun, users throughout the production pipeline can connect:
Artists check assets in and out of Perforce directly from within their usual work environment (Maya, Nuke, etc.)
Art Managers connect art-tracking data—such as character art lists and tasks—directly to Perforce check-ins in each asset's update stream, to keep teams up-to-date. Drill-down queries and reports can be generated as needed.
In-house software engineers can use the system to build and deploy custom tools.
Project leaders and executives have immediate access to content and progress notes.
All project participants can see asset information such as creative briefs and notes in the same location as the Perforce check-ins. Through an automatic project update feed, thumbnail images for each check-in are created and added into Shotgun's update streams so everyone can see the latest version of any specific asset or across the entire project in a familiar social-media style feed.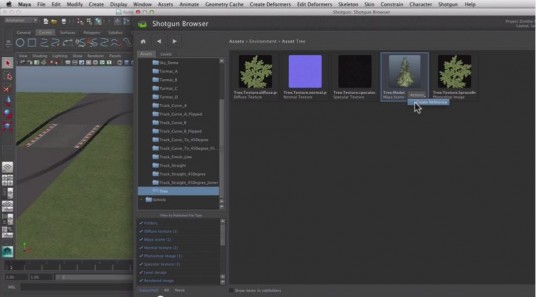 What do we think?
Marc Andreessen's famous comment "software is eating the world" applies to more than just programs replacing manual tasks. The methods behind software development and deployment are replacing older, less efficient methodologies. Continuous Delivery extends the "open" mantra by making every person in the creative organization a more integrated part of the production process.
Continuous Delivery as implemented here could catch on because it makes the production pipeline part of the creative process, not a separate layer of managerial complexity for artists to gripe about. It encourages the "lean creativity" studios are anxious to achieve in this age of cutting expenses to the bone while simultaneously pushing for ever more fantastic and realistic game and film effects.