Mixamo, a company offering tools for character creation, is getting ready for GDC with new updates and a new pricing plan.
Rigging is one of the more tedious jobs of character creation, so it's not surprising that considerable effort has gone into creating tools to automate the project. Mixamo, founded in 2008, originally offered online rigs and motion for animators and it has built a user base in the game development world. It was the first company to offer rigging as an online service, and that is still the company's primary business as well as its custom creation service. Mixamo's custom animations have been used in titles such as Jurassic Park and The Amazing Superman. The company says they have a library of over 10,000 animations.
What Mixamo has that there are customers who would like to have more functionality and there is an opportunity for Mixamo to expand their business with the addition of character creation and other tools. As a result, the company has also built Fuse for character creation and Face Plus for facial animation.
The company is getting ready for GDC where they have new announcements including the launch of Fuse 1.0, Mixamo's and a new tool that will allow users to adjust the level of detail (LOD) on a character or object. The company has also updated their pricing with the addition of a $150 per month all access subscription.
Fuse character creation
Unlike other Mixamo services, Fuse is a client based product. It a straight-ahead approach that lets users choose and modify character components, head, arms, legs, face, etc. Fuse does not live online, it runs on the client and as a result it's very responsive. Fuse is a free download and it offers the basics as far as characters go: male, female, arms, legs, hair, eyes, etc. and you can scale the body, and add clothing, etc. but this is likely to be a place where the users  will realize they really need to pay some money to create a truly unique character. Still, it's fun and Fuse is well integrated with Mixamo. When you're ready to animate, you hit the animate button and your character is automatically uploaded and you're given basic control points to assign to your model: chin, wrists, elbows, knees — everything Mixamo needs to add motion to your character. Then you can choose from motions, some free, others priced according to complexity. Rigging online takes a bit of time, a couple of minutes, but then you're presented with character that's literally ready to go. Mixamo partnered with Allegorithmic for textures, which gives customers endless opportunities for customization. The free option allows two characters per month Mixamo supports both Autodesk FBX format, Collada and .obj files.
­­­
Level of Detail Customization
Mixamo is introducing their new standalone LOD online service as early-access technology at GDC 2014. So far, it is not integrated into other Mixamo products. It's available to Mixamo's All Access license customers only. As the name suggests it will give users control over a character's or object's LOD before they download the character for use in a game engine or other application.
New Monthly Pricing
The entire Mixamo suite including FUSE 1.0, the Auto-Rigger, the Animation Collection and Mixamo's FacePlus facial animation technology is available to artists when they sign up for an All Access license. Prior to GDC 2014, an All Access license cost $1499 per year. At GDC 2014, Mixamo will begin to offer monthly payments of $150/month. Mixamo founder and CEO Stefano Corazza says most of his professional customers have preferred to pay for the All Access option, but he sees a growing interest in 3D character development coming from the independent and mobile game development community. Many of these companies are working within much tighter budget constrictions and the monthly option rather than one yearly payment makes a lot more sense for them. Mixamo also has a credits-based system that let's users pay as they go. Right now credits are worth roughly a U.S. dollar. The accompanying chart provides an idea of the cost of creating a character using credits.

More about Fuse
Mixamo went through several approaches to create a universal character creation solution. In 2010, the company teamed with the online character creation tool Evolver, which has since been acquired by Autodesk.  The partnership gave Mixamo's customers access to the Evolver tool. When Autodesk bought Evolver and subsequently took the technology into the Autodesk Labs, Mixamo had already working on their own approach to character creation. They teamed with Stanford University, which makes sense because Mixamo got its start as a project at Stanford where founder Stefano Corazza worked at the Biomotion Lab and developed markerless capture systems. Corazza says they developed Fuse with significant input from their customer community.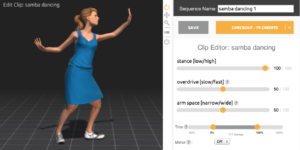 Primarily, Fuse is part of Mixamo's strategy to grow into larger markets. Larger customers are much more likely to create their own models and upload them for rigging. However Carroza says  indie developers are the fastest adopters of this new technology.  Also, in the game world, there's more and more interest in custom created characters that players can upload and use to play in a game.  Corazza says that the Mixamo sees opportunities for marketplaces where content can be exchanged. For instance, he cites Steam, where users are already creating content to sell to each other. With Fuse, they are increasing the value of those assets by integrating them into a complete character animation solution.
Face Plus
The company has also worked with Stanford, Unity, and AMD to create Face Plus, its facial animation product. The markerless system records data via the computer's webcam and applies the animation to a character in the Unity3D engine. AMD, an investor in the company, helped Mixamo leverage OpenCL to bring hardware acceleration to Face Plus. The company has also received investment from Granite Ventures, and Keynote Ventures.