3D characters created in Fuse can be imported into popular Steam games.
The active community of game modders using the Steam entertainment platform now have a new way to create 3D characters. Mixamo has released Fuse, new software that takes a mix-and-match approach to 3D character creation for Steam games.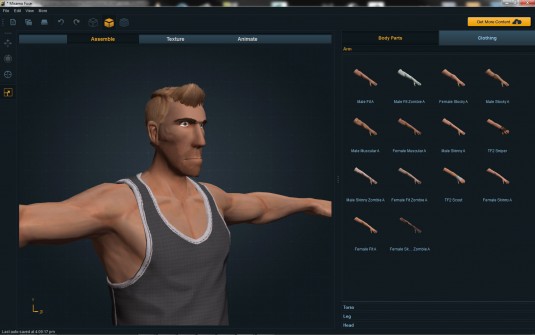 Steam is an online entertainment platform consisting of over 2,000 games in all genres and more than 65 million users worldwide. Users not only have instant access to games on multiple platforms (PC, Mac, Linux), but they can also create and share content for use in select games via the Steam Workshop.
Fuse offers a simple approach to high-quality 3D character creation. Unlike more traditional modeling tools, Fuse allows users of any artistic skill level to create customized game characters in a matter of minutes simply by dragging digital body parts (heads, torsos, arms, legs, etc.) and textures (pants, shorts, hats, etc.) together into the Fuse interface.
Fuse 1.0 includes characters from the popular Valve game Team Fortress 2, and also introduces the ability to import and automatically integrate user-created clothing, body parts and substances—what Mixamo refers to as smart textures. With this new import feature, Fuse users will be able to add unique content created in other modeling tools to the existing Fuse character library. Characters created in Fuse can then be imported into compatible Steam games.
Mixamo Inc. is a VC-funded Silicon Valley company founded by Stefano Corazza, CEO, and Nazim Kareemi. The technology has its roots in Stanford University's BioMotion lab, and was developed in collaboration with Stanford and Allegorithmic, maker of Substance Designer.