Using social and cloud technologies for initial design studies, SWMC represents the next generation of SolidWorks.
After a splashy introduction in January at SolidWorks World, the first product representing the next generation of SolidWorks is now available. SolidWorks Mechanical Conceptual (SWMC) takes a collaborative approach to conceptual design, with built-in use of social and cloud technologies.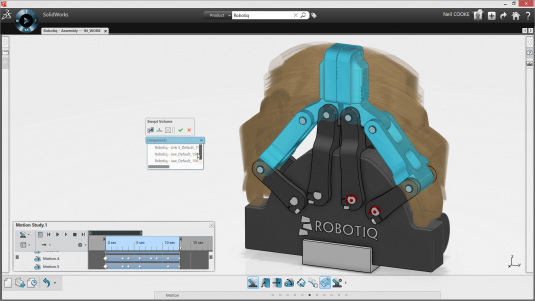 SWMC takes advantage of contemporary cloud and social technologies to provide a collaborative approach to conceptual product modeling. Add-on capabilities expand the basic product with collaboration extended to non-CAD users and simulation-based design guidance, using Dassault Systèmes Simulia technology.
The announcement from Dassault quotes early user Mike Buchli, an engineering manager at Karl W. Schmidt & Associates: "SolidWorks Mechanical Conceptual allows us to be competitive in a global marketplace by collaborating with customers in real time from one interface. We can work through ideas concurrently while getting instant feedback from the customer and other team members through the community pages. This workflow has allowed us to transform the way we do business to get to the final design quicker and shorten lead times for our customers."
Like other SolidWorks product, SWMC will be available only from its network of resellers. It is "sold" on a monthly license basis for $249 per month.
Related GfxSpeak articles:
The business case for SolidWorks Mechanical Conceptual, by L. Stephen Wolfe, P.E.
Finally, the big debut for SolidWorks Mechanical Conceptual, by Randall S. Newton
Using SolidWorks Mechanical Conceptual for a radial engine initial concept: