Digabit will use XVL technology in Documoto to deliver 3D data to aftermarket technical documentation.
Users of Documoto, web publishing software for aftermarket technical documentation, will benefit from the recent partnership announced between Digabit (publisher of Documoto) and Lattice Technology, which publishes XVL technology to deliver compressed 3D models with full fidelity.
With XVL in Documoto, companies will be able to more easily integrate even the largest and most complex assemblies into various online technical documents. Digabit says it integrated Lattice's XVL technology with Documoto to bring modern engineering 3D formats that can "provide the full visual picture of how parts interact and work together, to the aftermarket web," says Digabit CEO Alan Sage. "Combining XVL with our electronic parts catalog brings cutting edge technology, normally only available at the engineer's desk, to service personnel in the field."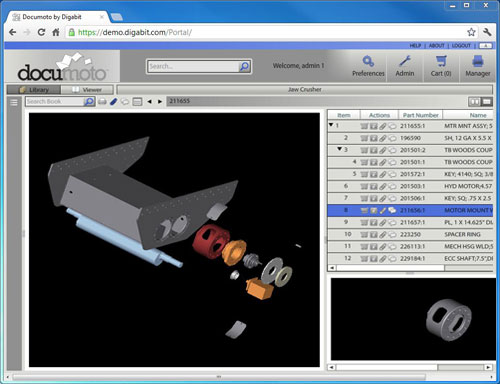 Getting the models out of engineering
The large size of engineering models is all too often the reason companies do not make full use of them in downstream applications after product design is complete. XVL claims to be the most lightweight 3D format in the industry; Lattice says the current version of XVL can compress 3D models to an average 0.5% of original size with high accuracy. I have seen XVL spin around a 3D model of an airframe assembly on an ordinary laptop much faster than any CAD program on that same computer.
Dassault Systèmes has used XVL technology as part of its Catia line for years; the two companies signed a long-term strategic agreement in 2004. But Lattice is CAD-agnostic; it supports all the leading 3D engineering CAD formats.