Support for Catia V4 gives it a leg up on the competition. It supports 32 CAD formats.
There is new viewing software on the market from one of the long-time leaders in interoperability. Kubotek USA introduces KeyMarkUp CAD Viewer, which views and marks up more than two dozen CAD file formats. The desktop tool gives engineers a one-stop product to measure, analyze, annotate, print, and export CAD data for better communication, collaboration and more accurate quoting.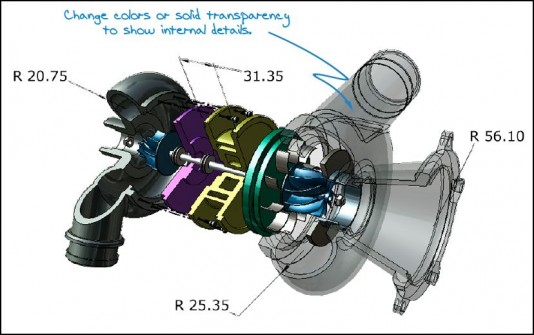 Among its features for reviewing CAD data is a dynamic selection tool, which allows users to create simple cross sections of complex parts or assemblies to complete difficult measurements or geometry checks. Other features simplify quoting and estimating, including multiple dimensioning, measuring and mass property features, and calculating tools.
An optional mold and die module increases mold-makers' productivity by enabling them to use several mold-specific features to analyze models to locate problems or to prepare more accurate quotations. KeyMarkUp mold tools include draft angle analysis, thickness analysis, shrinkage calculation, static interference check, and calculation of projected surfaces.
Kubotek USA says KeyMarkUp can quickly open very large assembly files and 32 of the most popular 2D and 3D CAD formats including:
Catia V4
Catia V5 (2D and 3D)
Pro/Engineer & Creo (2D & 3D)
JT Open
I-DEAS
3D XML
VDA-FS
SolidWorks (2D & 3D)
Siemens PLM NX.
KeyMarkUp also exports various file types, including 3D PDF, STEP, IGES, DXF, DWG, JPEG, STL and 15 additional file formats. Simple screen captures of annotated views enhance communication options.
Kubotek USA says no CAD experience is necessary to navigate in KeyMarkUp; it is designed to be deployed to managers and other non-CAD users in the manufacturing organization.
KeyMarkUp CAD Viewer is available in two versions: Basic and Premium. KeyMarkUp Premium is full featured and contains popular file translators. KeyMarkUp Basic contains all the tools and features found in KeyMarkUp Premium, but with less file import options. As mentioned, optional Mold and Export modules are also available.
Our take
Catia V4 is at end of life, but there are many manufacturing companies that need to continue to use models in that format. For them, KeyMarkUp CAD Viewer will be a godsend.
Manufacturing executives have told me Kubotek product are their secret ingredient, no matter what CAD format they have standardized on. Kubotek USA develops core technologies that can recognize, or even infer, the geometry's attributes to facilitate interoperability in what might otherwise be unusable data. Having started as one of the original vendors of direct editing 3D CAD for manufacturing, Kubotek has gone on to develop a variety of interoperability tools that solve nagging workflow problems. We expect KeyMarkUp to do well.