Between 2D and 3D, there is MBD, which enables access to design information.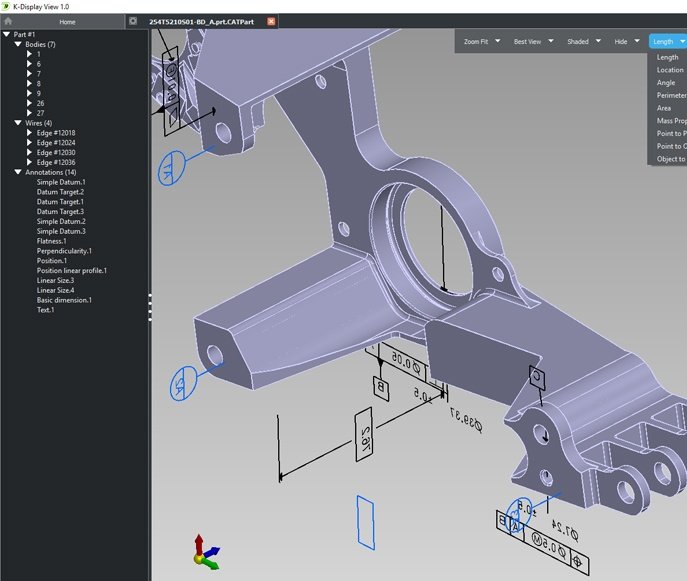 It's been a while since we wrote about Kubotek, makers of KeyCreator and utilities for manufacturing. It's a venerable company with long experience in 2D and 3D. These days, the company has built its expertise around 3D design, data exchange, and model-based design (MBE). The company has introduced K-Design to enable customers to translate and display design files for 3D review.
The company says K-Display is a fast, easy-to-use tool capable of reading the latest files from all of the most popular MCAD programs and offers powerful 3D review and translation options. K-Display is available via several license plans including lease, permanent license, node-locked, and network floating. It's available for Windows, Mac, and Linux and supports multiple processors, memory, and graphics resources. The company says it's suitable for all users whether they use CAD program or not and it's packaged into a small download and install size.
Features include:
Measurements, mass properties, and bounding boxes
3D cutting planes, wall thickness, and draft angle analysis
Support available for PMI annotations and native drawing formats
Export 3D models as STEP, IGES, or SAT
Kubotek says K-Display is designed for multiCAD situations. In addition to the intermediary file formats ANSI, ACIS (SAB/SAT), STEP, IGES, IFC, and JT, it also supports AutoCAD, Catia, PTC Creo/Pro/E, Autodesk Inventor, Kubotek KCM/KFW, Siemens NX/Unigraphics/Solid Edge, and Dassault SolidWorks. No additional CAD software is needed, says the company. K-Design is used as a local install, read-only program so that confidential data is not shared in a separate file and no annotations or additional data is shared back to the original model.
It's based on Kubotek's proprietary geometry engine, Kosmos, which supports multi-threaded processing. The latest version was released in 2020 and includes:
Feature recognition
Surface/Surface Intersection
Booleans
Faceting
Multi-threading in additional file readers
Transforming assemblies
The company has gotten behind MBD as an intermediate strategy primarily for the manufacturing industry. Models can be prepared to better communicate model intent, document ECOs (engineering change orders), add CAM annotation, or for communications between suppliers.
What do we think?
MBD is a real-world intervention that can add needed documentation information to 3D models as needed. It's an enabler for 3D design models in industries where workers have relied on 3D documentation but it's also a tool that simplifies management of digital twin data. It exists as a snapshot of a complex model used for a specific task that does not compromise the digital twin model with transient information. It's handled as another document in the PLM record. Kubotek is carving a niche for itself in this part of the manufacturing industry.