Since standardizing on Adept from Synergis Systems, Nexterra has centralized the use of AutoCAD and Inventor files and symbology and standardized many engineering and business processes.
Biomass gasification provides a clean, versatile and low cost means of converting wood and other renewable biomass fuels into synthetic gas to produce heat and power at plant-scale applications. Nexterra Systems Corporation, in British Columbia, Canada, designs and supplies biomass gasification systems for industrial customers and public institutions who want to reduce energy costs and comply with environmental mandates for renewable energy.
Nexterra has achieved leadership in this industry due to innovation and the ability to design and build industrial scale gasification systems on time and on budget. To stay competitive in this expanding market, Nexterra needed long term business strategies that pare down project expenses and reduce project times.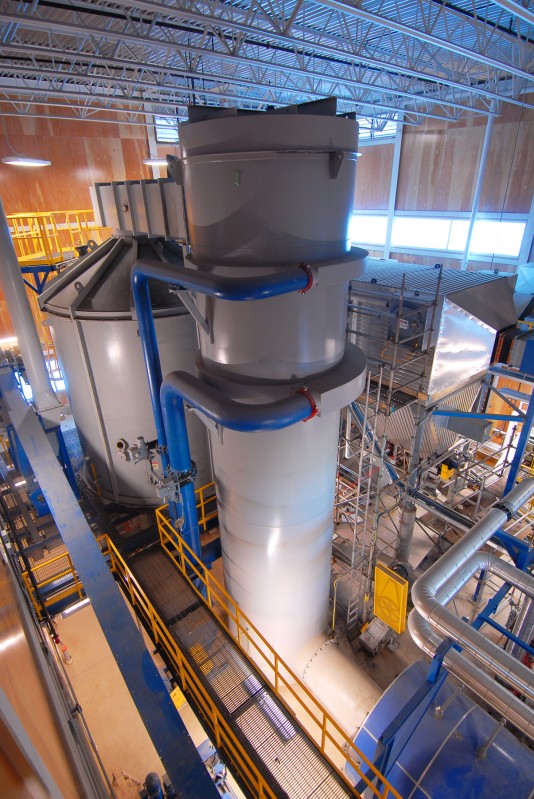 "Our projects can take thousands of hours over a period of six to eighteen months," explains Dragan Strujic, Nexterra's chief designer." Strujic's goal was to reduce these numbers.
Existing document management practices cause waste
When Strujic started working at Nexterra two years ago as supervisor of the mechanical design department, he was tasked with improving design and documentation. The key to achieving this goal lay in improving the efficiency of the design package that defined each project. Each design package contains documents from both the mechanical team and departments responsible for electrical systems and controls. Design packages contain all relevant information for a specific customer, including the assigned location and timeframe, and a fully developed scope of work.
From the earliest days at Nexterra, these documents were controlled by the project managers. Recalls Strujic, "Project Managers kept documents on local drives or on the server within their own particular project environment. If two project managers wanted to use the same part, more than likely, they'd design the same part twice and the revisions would be out of sync."
Project Managers also relied on email to share design and documentation files, which meant there was no document control or standards for communicating design packages to others. Says Strujic, "Managing all this data through email was too flexible and prone to errors. People could send an email to the wrong person or lose track of it. And then three weeks down the road, you've wasted a lot of time and the unit is not made, and you're stuck."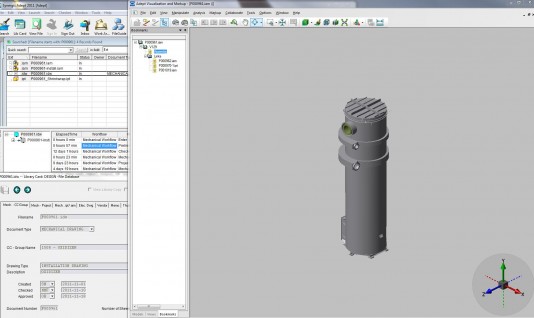 Planning a strategy to reduce time and costs
In order to improve the overall project design cycle, Strujic planned to re-evaluate all their engineering processes. The goal was to enhance process optimization and design standardization; achieve better document management control; improve change order process, process flow, and revision control throughout every phase of a project.  Once Strujic and his team identified the key processes areas for improvement they prioritized the list. Number one was to synchronize their AutoCAD and Inventor design standards, and make sure that everyone in their multi-member department used the same symbols, blocks, design tools, and other standard criteria throughout the design process.
After that task was completed, a more reliable way to deliver their work to the procurement and service departments was required. "We knew that in the end, we needed to manage our documentation and it would take some kind of software to help us out," notes Strujic.
Nexterra also needed a centralized database that gave everyone the ability to edit or exchange information as needed and to load and maintain the company's huge database of parts. All departments—mechanical, electrical, purchasing and others—needed to have access to all part numbers.
Justifying cost to upper management
After overhauling design standards, Strujic made a business case for a document management system, which would further increase efficiencies, improve project quality, and streamline workflow.
"My task was to show upper management that we were capable of achieving the promised outcomes," explains Strujic. "In implementing design standards we were already proving out reductions in design time and higher productivity rates. With these positive results, it was easier to demonstrate that a system that could help us find files faster would be the next logical step. The fact that other departments supported us on this measure made the justification a more integrated solution for the company."
Based on savings Strujic and his team had already achieved, management was comfortable with investing in a document management system with the caveat that it was able to serve multiple departments and improve processes throughout the company. "The bottom line was we needed a solution that would please both us and the customer. Our plan was to make them happy by paying less for more quality," explains Strujic.
When starting to research document management systems in earnest, Nexterra evaluated Adept from Synergis Software and three other document management systems. While Strujic drove the project forward, he was supported by two other department members, the head of purchasing, and a representative from upper management. After eight months of thorough evaluation, the team selected Adept.
"Some of the systems were more expensive. Some of them were less expensive," remarks Strujic.  "The main drivers were flexibility; floating seats; how and what current customers say about their current document management software; how we can expect the support when we need it; how we can expect to upgrade it when we need it; and how we can grow when we need to grow with that software in hand. That all came down to Adept being the system we selected."
The Adept implementation was staged in stages: training, uploading data, testing, and go live. The computer savvy team learned the software quickly and then they focused their efforts on testing the system: they loaded three test assemblies into Adept and worked to create the processes that they would use on a daily basis. Once the training and initial testing was complete, the remaining work was to load all of their files from project managers and project folders.
"The main point was to capture the valid files for our current projects and bring them into Adept and lock them down," states Strujic. "For us to complete this task, we came up with a new part number system altogether. We integrated cost codes into a numbering system to define the area and the component and established top-level assembly principles with linking relations. Then we could search, and compile, and combine the file groups together. Now we're able to generate document packages very quickly."
Advancing processes with workflows and bill of materials
An important part of realizing value from Adept was to streamline their workflows and improve their bill of materials processes. To start from scratch, they began using Adept with a new project that used these new part numbers. Taking advantage of Adept workflows, they developed processes that helped tie departments together. "We set it up so the workflows made sense for other departments and integrated with our overall goal to reduce time and get a streamlined process."
Nexterra's workflow moves the documents through approvals and modifications and then the whole package gets delivered to the project manager, who assigns it to procurement. "Automation has added flexibility, and helps maintain process flow while eliminating any random document change, or document editing without approval of the whole assembly." This has given them a more orderly flow of documents through a predictable sequence of approvals.
In the absence of an ERP system, engineering prepares their bills of materials in Microsoft Excel. That document is then saved to Adept so that the procurement person can transfer that Excel bill material into their financial system. At the same time, they can use that spreadsheet for transcripts and other items they need for purchasing and communicating with the vendors.
Then the procurement department updates and fills out part numbers and the quantities, and the descriptions and any other additional information supplied form the vendor such as cost, terms and conditions, and so forth. The procurement information is then imported back into Adept to make more information available.
Engineering efforts drive measureable results
It is often difficult for companies to assess the positive results from automating standards and adopting new technology. At Nexterra, however, measuring results is part of a top down commitment to eliminating wasted time and resources for every project. In the case of engineering, the process improvement has significantly contributed to many sustainable benefits:
Time savings on projects: An estimated 25% time savings on projects by eliminating communication errors between engineering and procurement. On a recent project, they reduced the number of project hours by 45%.
Reduced project schedule: On a recent project, the project timeline was cut from eight months to six months.
Reduced support calls: Compared to a project two years ago, verbal communication and clarification activities between engineering, procurement, and project management departments have been reduced to zero hours. This call volume reduction is another indication of amazing success.
Streamlined workflow: With multi-level approvals and a review and approval procedure, people throughout the organization have an opportunity to look, comment, and provide suggestions. This input is incorporated into designs, adding quality gains to the overall process.
Elimination of errors: Document management has helped eliminate errors, wrong or old revision levels, and non-controlled revision level drawings. Because everything in the Adept system is well-labeled, everyone knows there is just one drawing for that particular component, which is valid and approved. No one is going to use an obsolete version.
Better collaboration: Engineering is able to more easily provide their materials list to project management, procurement and finance departments for more accurate reporting.
Improved quality: They know exactly at each point what drawing is under what status and that stretch between 0% and 100% for issue for production.
Concludes Strujic, "We were aware that we needed to change our process flow. At Nexterra, we learned what Adept can do and implemented those features of Adept that added value to us. We are now currently using it and seeing the benefits."