Revenue for the second quarter of 2017 grew 3% year-over-year.
By Kathleen Maher
PTC says it is happy with the way its current strategy is going. The company is transitioning its customer base to subscription, which will smooth out the company's revenues and it is building new business in IoT. The company hopes to see a synergistic effect between its IoT business, its IoT tools, its PLM products, and its service products. It's an idea long on ambition and full of pitfalls, but it has its charms.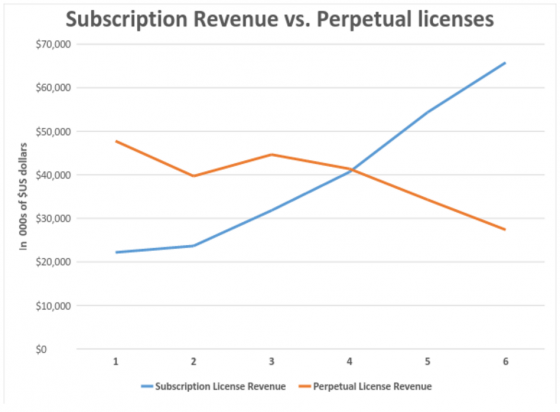 In the company's financial call, PTC CEO Jim Heppelmann said he is happy about the pace of transition for subscription. Truly, this is going well, and PTC is helping to prove the point that Autodesk and Adobe have made. Subscription is a logical path for professional software. People don't easily quit using a preferred tool, but they might delay upgrading to the latest release making it difficult for developers to advance their users to new technology and techniques. The benevolent interpretation, in other words, is that it's for everyone's own good.
During the company's most recent financial report, Heppelmann told analysts and investors that based on the current rate of transition the company will accelerate the move to subscription-only options for customers buying PTC's IoT ThingWorx products and core solutions (primarily the CAD and PLM portfolios) in the Americas and Western Europe beginning January 2018. The company says Americas and Western Europe represents 70% of PTC's businesses. The company will move more slowly in regions more resistant to subscription models. Japan and China are not fans and PTC is having to work hard to keep its investors on board.
The company has done a good job, but there are worrisome signs. The company's CAD growth is below the industry average and still a small proportion of the company's overall revenue. In the April quarter of 2017, the company's "Solutions" product segment, which includes CAD and PLM products, was at 92% of the company's revenues leaving 8% for IoT. In general CAD year-over-year revenues grow at a rate of around 6-8%. PTC's revenue for the quarter ending in March 2017 (2Q17) came in at $280 million, a sequential decline, but a 3% year-over-year growth, which was enough for Heppelmann to declare the company out of the inevitable trough that comes with subscription transitions.
PTC says their bookings have increased 11% year-over-year to $95 million, thanks to a healthy uptick in IoT bookings. According to Heppelmann's call to industry analysts, PTC's IoT's bookings are in the range of 30-40% growth, which is helping to raise the company's overall bookings to "the low teens." So, that's nice, but according to Heppelmann, PTC's overall revenues for IoT are also very low, so that just kind of begs the question how low the company's bread and butter CAD and PLM revenues actually are. The company has changed some of their reporting as they make the transition.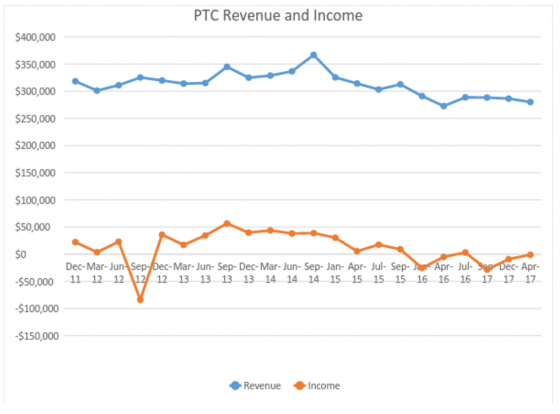 The company says its total deferred revenue—billed and unbilled— increased $56 million sequentially and $223 million year-over-year to $881 million as of the end of Q2, 2017. PTC reported software revenue at $235 million. PTC says because of the higher ratio of subscription revenue, company revenues were $10 million lower than last year.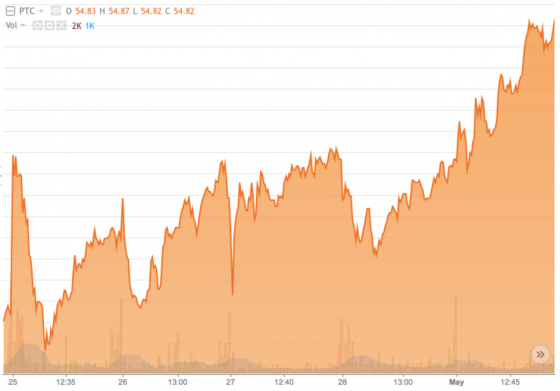 The company says it is keeping its costs under control. Operating income was about flat year-over-year.
What do we think?
This is the sort of stuff that investors love. There are some pretty sour observers who compare PTC to Dassault, Autodesk, and Adobe. They note that Dassault has continued to see increasing revenue and stock performance and that Autodesk has the advantage of having a captive base for its AutoCAD and Revit products. Adobe is the gold standard as that company has navigated their own transition brutally, swiftly and successfully and has seen rising stock prices as a result.
But increasingly, the CAD companies have staked out their own territories and therefore direct comparisons don't make a lot of sense. PTC's most direct competitors are Dassault, Siemens, and Autodesk but PTC has the most integrated IoT strategy and they've been building it longer. The key to a successful transition to subscription isn't about gaining new revenues, it's about stabilizing and maintaining revenues. Growth still has to be built with new business and PTC has chosen its IoT tools in ThingWorx as its primary opportunity for growth. In addition, PTC is adding on to its core base of CAD and PLM products so investors are not wrong to see something to like in the company's plans.