The first business idea failed, but it had a great pitch deck, so the team refocused on presentations.  

New today for iPhone is a revolutionary presentation builder that helps the user create graphically rich yet minimalistic presentations. Haiku Deck reinvents presentation software on the iPad around telling the story, not bombarding viewers with facts.
Only one year ago the three founders were pitching a game development company called Giant Thinkwell at TechStars, with a celebrity hook-up with rapper Sir Mix-A-lot. The pitch was stunning, but the business failed. As founders Adam Tratt (CEO), and Kevin Leneway (CTO) started over, they realized the presentation they used to sell their first idea could become the seed for a new business.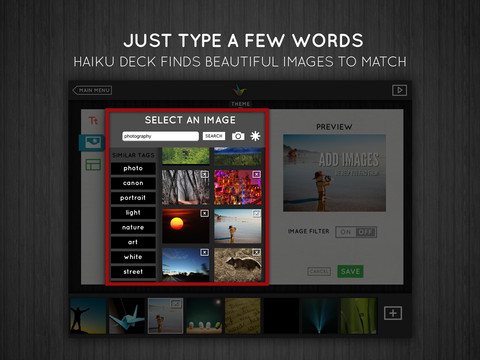 Haiku Deck is based on a principle of helping the user easily create a stunningly rich graphic experience. The app's image search engine suggests photos based on each slide's words, and offers related terms to help broaden the search.  The app includes design filters to encourage a minimalist "six words or less" approach to presentation slide development. When finished, slide decks can be exported to PowerPoint or PDF formats.
The free app is now available on iTunes; Giant Thinkwell plans to sell add-on kits with more design filers and images.
Two sample Haiku Deck presentations are embedded below. Click on the left or right arrows to advance or reverse the presentation.