Caustic Visualizer allows high fidelity views at the earliest project stages. A Rhino version already exists and a 3ds Max version is coming.
Imagination Technologies has released a viewport plug-in for Autodesk Maya 2013 that provides interactive full-frame photorealistic display of objects from the initial stages of production. Caustic Visualizer is a CPU-only rendering solution, making it the first Maya plug-in to offer a real-time photorealistic Maya viewport on a CPU-only desktop; competing solutions require quad-GPU hardware.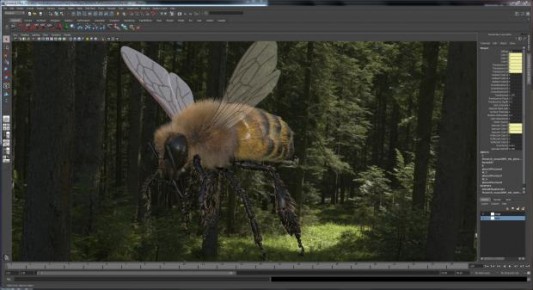 Caustic Visualizer is built entirely on the Imagination PowerVR OpenRL platform. Through OpenRL's highly optimized CPU implementation, Caustic Visualizer can deliver an interactive photorealistic viewport experience on a CPU-only desktop that was previously only possible in competitive solutions based on expensive quad-GPU hardware configurations.
Caustic Visualizer is based on the Imagination PowerVR / OpenRL platform, optimized for CPU implementation. If combined with the PowerVR add-in board, Caustic Visualizer can create 1024 x 1024 resolution imagery up to 15 photorealistic frames per second.
Key features include:
Visual feedback: Objects in the viewport are complete with soft shadows and diffuse reflections;
Material set-ups: The plug-in supports Maya's Hypershade render nodes and Mental Ray shader nodes;
Geometry Independence: Caustic Visualizer supports a full range of standard scene geometry types, including polygons, NURBS and subdivision surfaces;
Lighting Flexibility: The plug-in is compatible with Maya's Point, Spot, Directional and Area Light types.
Gavin Greenwalt, senior artist at Straightface Studios, says: "Interactive ray-tracing will do for rendering, what ZBrush did for modeling. I've tested and tried just about every preview tool that's been released; Caustic Visualizer for Maya is the first solution that I can actually use in production. It is so rapid I can leave the ray-traced view open all the time now, which has revolutionized my workflow. I can't imagine going back to trial and error now."
Caustic Visualizer for Maya 2013 is now available to users as a free download via the company's open beta program. Versions of Caustic Visualizer are now under development for McNeel and Associates Rhino 3D and Autodesk 3ds Max.