Because ArcGIS Online is a cloud-based service, DraftSight can automatically update maps whenever a CAD file is opened.
DraftSight users may now add maps from ESRI's ArcGIS to their drawings, thanks to a new plug-in released today by Graebert, the developer of DraftSight for Dassault Systèmes.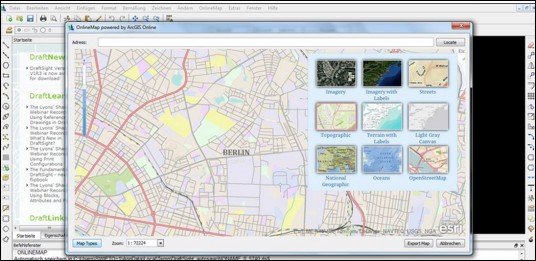 ESRI is the largest provider of GIS software and services. Graebert Online Maps Plug-in for DraftSight allows users to browse and reference any maps available in the ESRI ArcGIS Online map base and integrate them directly into their CAD drawings.
DraftSight is the free DWG-compatible 2D CAD tool developed by Graebert and distributed by Dassault. It has been downloaded more than 3.6 million times, and is in daily use by professionals, students, and educators. ESRI ArcGIS Online allows users access to basemaps, demographic maps, and image services within their organization, using the ESRI Cloud.  The Graebert plug-in automatically checks to see if a map is the latest version when a file is opened.
The plug-in is available at no cost to DraftSight users, but it only works in Windows using DraftSight release V1R3.1.
Our take
It just got dirt simple to use accurate maps in DraftSight—if you have access to ArcGIS Online.