A partnership between 3D printer manufacturer EOS and precious metals provider Cooksongold results in a new printer.
Sculptor and jewelry designer Johannes von Stumm came up with his latest design for a set of puzzle rings, he knew he needed to create them directly using 3D printing rather than use traditional lost wax casting. "I create many different iterations of the same design and the ability to change and immediately print a piece offers me great flexibility. With direct metal laser sintering I send over my latest design which is simply printed and ready to polish. I am even able to send multiple files and have them printed together to save cost."
Von Stumm's interest in 3D printing (he was already using 3D CAD for design) led him to become an early user of a new 3D printer and service provider designed specifically for the luxury goods industry. The Precious M 080 DMLS system is the result of a joint partnership between Cooksongold, a supplier of fabricated and process-ready precious metals in Europe, and 3D printer manufacturer EOS. The new 3D printer is being introduced this week at the Hong Kong Jewelry and Gem Fair 2014.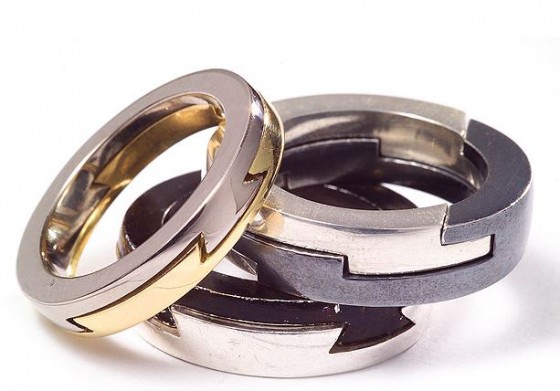 At Cooksongold, product and service offerings will range from the sale and installation of an EOS Precious M 080 machine and the supporting supply chain for jewelry and watch production including licenses, advanced metal powder, software, and training. Cooksongold will also provide consultation for a DMLS-driven design process and bureau service production of custom precious metal parts.
The EOS Precious M 080 system is equipped with a 100-watt fiber laser, which EOS says will provide "exceptional beam quality and power stability." The system uses a cartridge-based system which includes an extraction cartridge for easy removal of powder. The Precious M 080 has an 80 mm diameter round build platform with a working stroke of 95 mm (high, including building platform). The Advanced Metal Powders produced by Cooksongold have been optimized to match the performance of the Precious M 080 system, ensuring that customers can start building parts immediately upon machine installation. Currently the system can build parts using a variety of gold alloys and future development of additional materials to meet customer requirements is planned.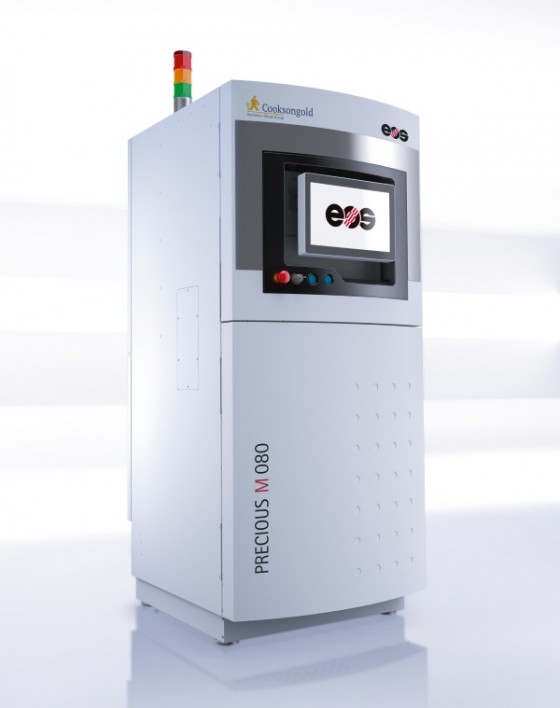 Cooksongold will provide clients with training on machine operation and designing for DMLS. EOS says it is crucial customers understand how to design with the capabilities of DMLS in mind, especially if they want to produce pieces previously unachievable by conventional production methods.
What do we think?
Too often when we talk about CAD it is in the context of big manufacturing and big construction. But the jewelry industry is also a big user of 3D technologies. 3D CAD plus direct metal laser sintering can challenge a designer's imagination and enable the creation of jewelry and watch components that previously would have been impossible to successfully manufacture.
DMLS and other additive manufacturing (3D printing) technologies are starting to change the economics of producing watch and jewelry products, by offering a streamlined manufacturing process to dramatically reduce the time required from design conception to final part realization. 3D printing can also enable the production of design-driven pieces not limited by the restrictions of conventional production techniques such as lost wax casting.