The N-trig stylus features active pen and multi-touch capabilities on the same sensor. The enterprise tablet is designed for Windows 8.
Touch computing specialist N-trig is celebrating the first adoption of its new precision stylus technology in a tablet computer. Fujitsu has announced its Stylistic Q702 touch tablet will ship with N-trig's G4 DuoSense technology. The stylus, when running Windows 8 on the Fujitsu tablet, will provide precise drawing capabilities not possible on existing tablets.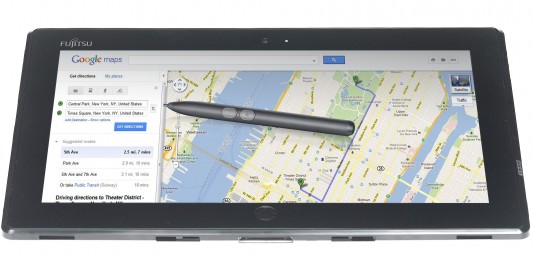 The Fujitsu tablet is a combo model, with a detachable keyboard docking station for transformation into a traditional notebook computer. The G4 DuoSense stylus allows for both multi-touch and active pen capabilities on the same device.
The Fujitsu Stylistic Q702 features an 11.6-inch HD display with a precise active pen and 10-finger multi-touch user interface. The enhanced DuoSense solution provides increased processing power for a more responsive user interface. The newly upgraded active pen includes an innovative tip design that provides the high accuracy required for handwriting recognition together with palm rejection technology that enables a natural pen-on-paper handwriting experience.