The Canon EOS 650D is one of 21 new cameras added to the list.
Adobe has updated its Lightroom and Camera Raw software products on Adobe.com. The update adds 21 cameras to the list of supported camera for either raw file support or tethered capture direct to software.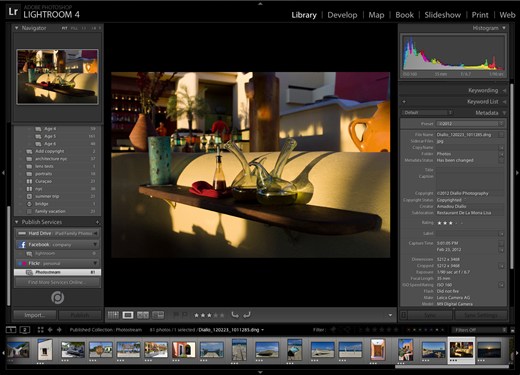 Lightroom supports digital photography workflow, helping serious amateur and professional photographers import, manage, enhance, and showcase all their images within one application. The Photoshop Camera Raw plug-in provides access to raw image formats produced by many leading digital cameras.
The updates add Album Support within the Revel Publish Service; bring additional raw file support for 21 new cameras including the Canon EOS 650D/Rebel T4i, Fujifilm X-E1 and Sony DSC-RX100; provide tethered capture support for 11 new cameras; and preliminary support for the Nikon D600 camera.
The complete list of added raw file support:
Canon EOS 650D / Rebel T4i
Canon EOS M
Fujifilm XF1
Fujifilm X-E1
Fuji FinePix F800EXR
Leaf Credo 40
Leaf Credo 60
Leica S
Leica D-LUX 6
Leica V-LUX 4
Nikon Coolpix P7700
Nikon 1 J2
Panasonic DMC-G5
Panasonic DMC-LX7
Panasonic DMC-FZ200
Pentax K-30
Samsung EX2F
Sony Alpha NEX-5R
Sony Alpha NEX-6
Sony Alpha SLT-A99V
Sony DSC-RX100
Added tethered capture support:
Nikon D4
Nikon D800
Nikon D800e
Canon EOS Kiss X5
Canon EOS Kiss REBEL T3i
Canon EOS 600D
Canon EOS Kiss X50
Canon EOS REBEL T3
Canon EOS 1100D
Canon EOS 5D Mark III
Canon EOS 1D X
In addition, Lightroom 4.2 and Camera Raw 7.2 final releases correct issues reported in their initial releases.  Lightroom 4.2 is available as a free download for Lightroom 4 customers, and the Camera Raw plug-in is available as a free download for Photoshop CS6 customers; both are available for Mac and Windows.
Additional technical details are available at the Adobe Blogs website.