Designer Daniel Simon has replaced a render farm with a single Boxx workstation and Nvidia Maximus software.
Daniel Simon is a professional automobile designer who works both in the industry and in Hollywood. His clients include Bugatti, Volkswagen, Audi and Lotus on the automotive side.  Since 2008 he has designed high-style automobiles for feature films including "Tron: Legacy," "Captain America: The First Avenger" and "Prometheus," and the upcoming film "Oblivion," starring Tom Cruise.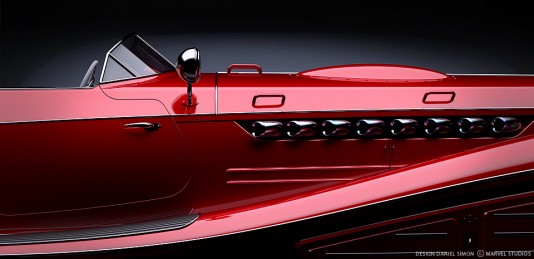 Recently he moved from the traditional workstation and render farm approach to creating high resolution images. "I often handle both vehicle design and modeling in the film projects that I work on, so I need efficiency," says Simon. "My first experience with Nvidia GPUs was a single Quadro 6000. The rendering speed in iRay was an eye opener, and it also helped my editing process in Adobe Premiere Pro with its built-in GPU support."
"Impressed with the boost of one Quadro alone, I went all in with Maximus," says Simon, adding a Tesla GPU and Nvidia's coordinating software Maximus to his workstation. "I now render proportionally faster with every card I add, plus I can keep using the same machine for other tasks while rendering."
For Captain America, he created many of the vehicles seen in the movie, including the "elegant, imposing, and sinister" 16-cylinder roadster driven by villain Johann Schmidt, AKA The Red Skull. Simon explains the design intent: "At first, I envisioned an extreme car shaped like a 1937 Auto Union Type C streamliner, but I soon understood the film's director was looking for something classic and upright. A style-blend of a Mercedes 540K, a Mercedes G4 Off roader plus some hints of Bentley and Duesenberg turned out to be the perfect language."

The model was created in Autodesk Alias Automotive while the animation is key-framed and rendered in Bunkspeed Pro. The video clip (at the end of the article) was created on Simon's BOXX 8550 Xtreme workstation with Nvidia Quadro 6000 and Tesla C2075 GPUs, equipped with Nvidia Maximus software for coordinating the two GPUs. Simon says he has reduced render times per frame by about two-thirds—from 15 minutes to 5 minutes—saving more than 11 days of rendering over the 1,600-frame clip. The clip was rendered in full HD 1080p with in-camera depth of field and low light, a tough render task.
After sculpting the car in Alias, Simon rendered batches of photo-real imagery of the car within minutes. The 3D data set and rendered shots were used to build a life-size version of the car that matched every detail, for use on set at Shepperton Studios in London.
"The photographer in me enjoys the fact I render up to 10K resolution with ease, can add depth-of-field and reduce render noise," says Simon about his new Maximus-based workstation. "The designer in me enjoys the speed for more versions to look at. And the producer in me is happy to save time."