IMSI/Design claims TurboViewer is faster than AutoCAD WS at loading and navigating drawings.
The developer of TurboCAD has released TurboViewer, a free app for iPad that works with both 2D and 3D DWG drawings.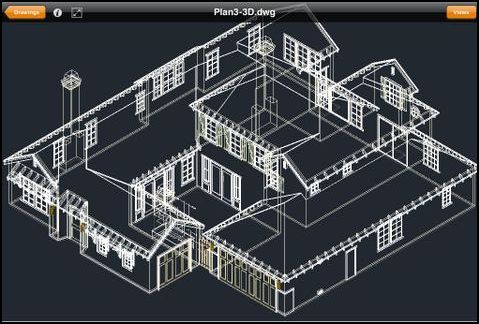 IMSI/Design claims TurboViewer is faster at loading and manipulating AutoCAD DWG drawing than AutoCAD WS for iPad from Autodesk. It is also the first DWG-based iPad viewer capable of displaying 3D DWG. The developer says AEC is the target market for  TurboViewer.
The free app has advertisements along the bottom while in use, leading us to speculate an add-free paid version of the product is coming soon. IMSI/Design says it will make an announcement a month regarding new features or additions to their new iPad product line. Since the introduction last week, an update has been posted to iTunes that adds a web-based wiki help system, the ability to cancel a file while loading, and iPhone support.
"We believe iPad is going to drive as much innovation in the CAD space as the original PC did back in the 1980's," says Royal Farros, chairman and CEO of IMSI/Design. "Because of the amazing portability, battery life, and multi-touch display of iPad, an architect, designer, or engineer can spend all day viewing even the largest 3D plans right on-site, even view plans while walking around a building site. That simply can't be done with existing PC technology."
TurboViewer features include:
Native 2D and 3D .DWG and .DXF viewing;
Able to navigate full-screen preview during file load;
Cancel errant file load;
Multi-touch navigation while panning, zooming, and orbiting;
Restore saved AutoCAD views to quickly display the best vision of a design
Supports AutoCAD linetypes to maintain visual fidelity as intended;
Autosense 2D or 3D drawings to automatically set appropriate gesture navigation of a drawing or model.
Full-time internet connection not required, allowing remote field work.
TurboViewer App is available for free from the App Store on iPad or at www.iTunes.com/AppStore.
More information: www.IMSIdesign.com/TurboViewer.