The latest addition to Creative Cloud works well with Adobe Photoshop, Capture, and Illustrator.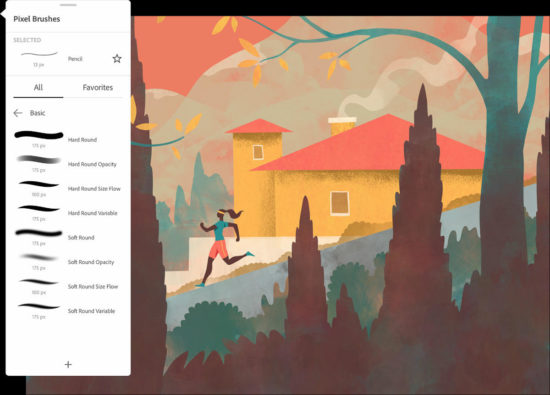 Adobe has launched a new app, Adobe Fresco (announced as Project Gemini last year at Adobe Max) for artists, illustrators, animators, sketchers, and anyone who enjoys drawing and painting. Designed for Apple Pencil and touch devices, Adobe Fresco lets a user paint with brushes that give the feeling of reality. The app provides flexible environment and freedom to use different kinds of media and different techniques. That way, beginners can experiment with materials, undo the unexpected outcomes, and start afresh! A few tutorials are available here to get you started.
In the Adobe blog post, announcing the launch of the app, illustrator Kyle Webster said that one of Fresco's fundamental strengths is the variety of brushes one can use. Webster's work as an illustrator and design has appeared in The New Yorker, New York Times, Entertainment Weekly, The Atlantic, and ads for Nike, Microsoft, Target, and Wrangler. He is also a well-known creator of custom brushes, which he marketed as KyleBrush.com. He joined Adobe in 2017 as an evangelist and helped build Adobe Fresco, along with a group of illustrators with diverse styles and backgrounds. Fresco takes advantage of Apple Pencil, and provides new, Live Brushes, powered by Sensei, which can recreate the experience of painting with oils or watercolors. Fresco allows users to combine raster and vector tools and work can be opened in Illustrator or Photoshop to take advantage of all the tools in those programs.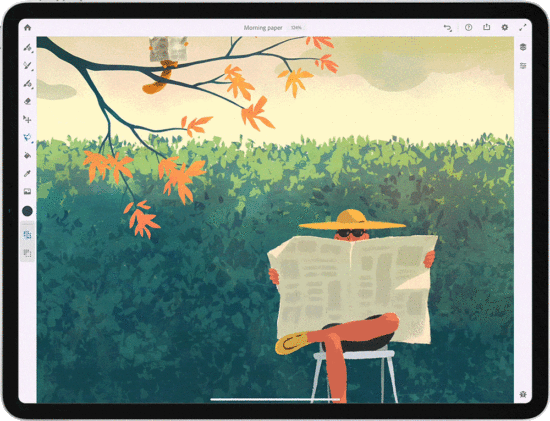 Fresco is available immediately for Creative Cloud subscribers. A free version is available from Apple store but with limited access to some professional tools. The paid version is available for $9.99 per month.
What do we think?
The professional artists are going to love Fresco, but also its availability on iPad will encourage anyone who likes to draw and doodle to try it. Adobe has taken its time with this one. Corel Painter has been a strong choice for artists and offers a huge collection of brushes, which can also be used in Photoshop. Adobe has bided its time and harnessed Sensei to mount its challenge. At IBC, we heard about Krita, an open-source paint tool for PCs. Krita has advanced color management capabilities, which means it can take advantage of the wide color gamut of HDR displays. Suddenly, digital paint, which was a specialized domain for digital illustrators and artists, is opening up. Adobe believes that everyone is a creator. Fresco is another tool that lets that inner creator come out to play. We're finding video tutorials and demonstrations to be almost as valuable as the tools themselves for the way in which they offer inspiration and guidance on how to realize it. To see what we mean, have a look at all the material developed around Kyle Webster and his portfolio of brushes.