Core uses a 'recipe' methodology to transform 3D data so that a user can select exactly what information—no more and no less—is passed along to a partner. From the archives of Engineering Automation Report, acquired by Jon Peddie Research in 2010.
By Randall S. Newton
The new QQ from China's Chery Automobile Company looks suspiciously similar to the GM/Daewoo Spark. Could there have been a problem of 'misplaced' intellectual property when Chery worked with GM/Daewoo? The Commercial Times of Taiwan says, "56% of vehicles in China, the world's third largest automotive market, have been found to have counterfeit parts on them."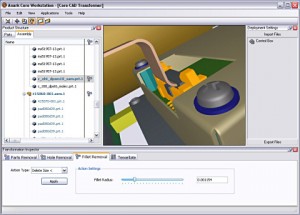 In an era of globalization and rapid product development, manufacturers need to share data far beyond the corporate firewall. With this need comes the challenge of protecting IP while giving partners enough information to do their jobs. Anark Corporation thinks it has a solution in this month's introduction of the Anark Core Platform for CAD data transformation and distribution.
Anark Core gives manufactures an automated system for transforming and delivering CAD geometry while protecting IP. Core uses a 'recipe' methodology to transform 3D data so that a user can select exactly what information—no more and no less—is passed along to a partner. Core allows users to produce both high-precision (B-Rep) and lightweight (mesh) product geometry for use in a variety of upstream and downstream applications.
"Repurposing our CAD geometry for use in real-time 3D training applications is very expensive and time consuming, and the risk of exposing our IP when sharing product design data is high," said John Reasoner, Principle Multimedia Engineer for Simulation and Training Solutions at Rockwell Collins. "The Anark Core Platform solves both problems, enabling us to quickly transform our CAD data into the useful lightweight form we need, and making the removal of sensitive product design elements easy and straightforward."
The Anark Core Platform consists of two main components that can be configured to match organizational needs:
Anark Core Workstation is an authoring tool that allows users to produce transformed, use-appropriate CAD geometry for supply chain and support applications throughout the enterprise. The Core Workstation user can import CAD data and then identify parts, instances, assemblies, and geometry features to be modified or removed. The resulting data is then available for distribution.
Anark Core Server is a scalable server system for high volume, repeated applications of the Core method. Core Server automates the transformation process based on "recipes" created with Core Workstation and maintains coherency between managed CAD repositories—even under constant product geometry revision. Anark says Core Server is designed to serve the needs of large manufacturing enterprises by providing a modern, service-oriented architecture (SOA) that allows straightforward integration with PDM, ERP, and other enterprise software systems.
Anark says it considered offering the software as Software as a Service (SaaS) but found its key customers resistant to the idea of moving intellectual property to somebody else's server. They are studying the use of SaaS technology for future releases, when engineers become as comfortable with hosting data as accountants are with having banks host money.
Anark has spent years helping leading manufacturers repurpose their CAD data into appropriate forms; Boeing, Rockwell Collins, Cessna, and Pratt & Whitney are among the company's many long-term clients. The commercial product is an outgrowth of its custom work, when clients commented that the process of "sanitizing" CAD data was adding days to every release of data to partners.
Prices start at $5,000 per seat for Core Workstation; Core Server will be $25,000 on a per-CPU license.
Our Observations
The release version of the software seems to handle large file sizes with ease. We observed a demonstration where the fasteners were removed from a large assembly, and all the fillets blurred to remove dimensional data. The process to convert this from a one-time edit to a recipe repeatable on many models was fast and straightforward. The 1.0 release works with most major MCAD formats; Anark says support for SolidWorks and Inventor will be available in less than three months.
Anark sees little competition for what they are doing. Most manufacturing visualization solutions are focused on lightweight views for downstream use. Any firm concerned with the possible leakage of intellectual property from the sharing of CAD data should take a close look at Anark Core.
More information: www.anark.com