The new lineup of popular M1s promises fresh growth, but iPhones still lead the parade.
Apple reported its best March quarter ever, which is to say March is not usually a great quarter for Apple. The company does its best during the holiday season by a long way. That pattern isn't changing, but the March quarter, which is Apple's second quarter in the fiscal year, is up 54% year over year with revenues of $89.6 billion. The company has also broken new ground in sales to Asia, and international sales, in general, are up and now account for 67% of Apple's revenues.
Apple CEO Tim Cook interpreted Apple's unusually good second quarter as a sign people are more hopeful. Cook says, "Apple is in a period of sweeping innovation across our product lineup, and we're keeping focus on how we can help our teams and the communities where we work emerge from this pandemic into a better world".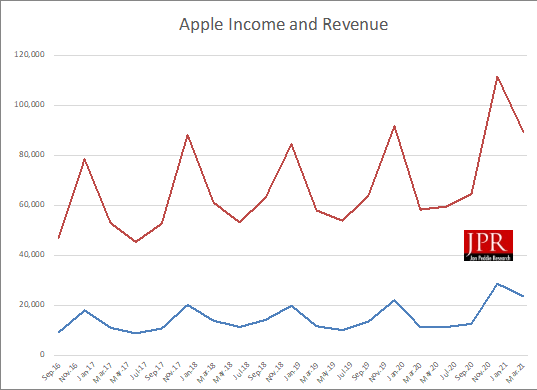 In this, his comments are being echoed again and again by technology company leaders. The feeling that we are entering a period of innovation is inescapable.
Apple's fortunes continue to be dictated by the iPhone. According to IDC and Gartner, Apple sold over 90 million phones in their last quarter of 2020. That's more smartphone sales in one quarter than any other provider has managed to sell in a quarter. Cook says iPhone sales grew 66% quarter over quarter. He credits the iPhone's camera, which Cook describes as the best ever in an iPhone, and the improved durability of the Ceramic Shield display, which can withstand falls. He says these phones are registering with upgraders as well as new customers.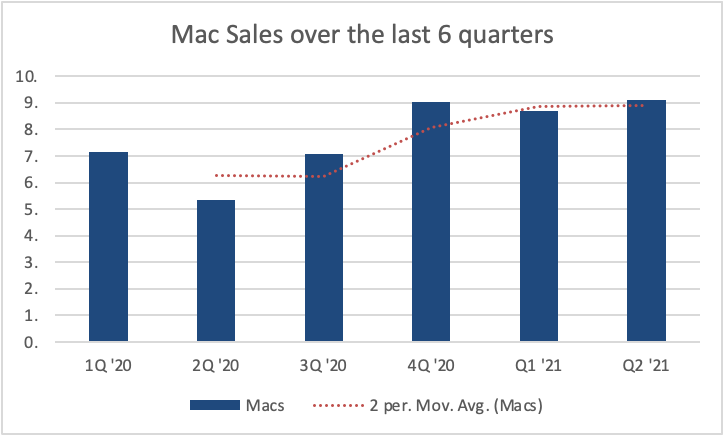 If the early sales of the M1 Macs are any indication, Apple's Mac sales are leveling up. In the company's new product announcement for the latest M1-based notebooks, Tim Cook says sales of the M1 already outpace all other Macs in the company's lineup. That trend is likely to become even more pronounced in the coming year as people get back to work and possibly reprovision their offices. In April, Apple introduced its latest line of M1 drive desktops—they're very skinny and very colorful iMacs.
Services could even out the lumps
Apple's growing services segment, which includes subscriptions for news, TV programming, audio, fitness, does not have the steep rises and sharp fall-offs of Apple's hardware products. It is not helping to smooth out Apple's bumpy revenue stream yet because sales revenues for services are so much less than the sales of hardware. In Q2 2021, Apple's services reached a record level of $17 billion.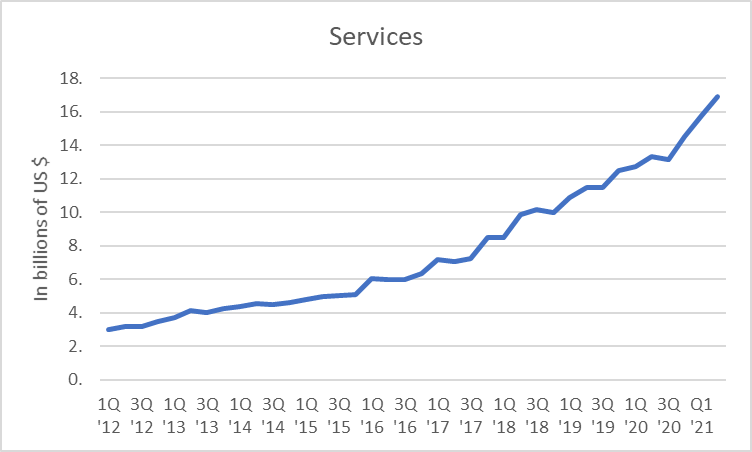 Apple has consolidated its services into an Apple One bundle, bringing its company's services into one subscription. The company has not revealed specific revenues for the bundle. Still, Tim Cook did say during the financial call that the purpose of creating the bundle was to continue the momentum Apple's services achieved during the pandemic. Apple has also responded to the push back against its 30% commission with a deal for small businesses. In November 2020, the company offered companies that make less than $1 million a year a reduced commission of 15%. As this is being written, the lawsuit between Apple and Epic over the 30% commission is just kicking off. This is a story that will take a while to play out.
"We are proud of our March quarter performance, which included revenue records in each of our geographic segments and strong double-digit growth in each of our product categories, driving our installed base of active devices to an all-time high", said Luca Maestri, Apple's CFO.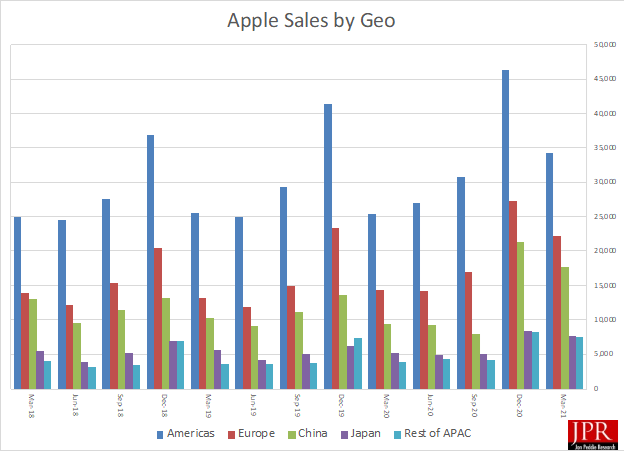 He also said the company has generated a cash flow of $24 billion and is returning $23 billion to shareholders during the quarter. The Apple Board of Directors increased Apple's cash dividend by 7% and has devoted $90 billion to their share repurchase program.
Apple is not making any forecasts, but CFO Luca Maestri did share some thoughts about the coming year. He expects to see the company's financial results continue their seasonal patterns and that growth will accelerate on a year over year basis. In 2020, Apple saw their digital services revenue go up, which the company's executives attribute to the lockdown. They're not counting on the same level of growth. Maestri also warned that the Wearables, Home, and Accessories products will not help boost services. Instead, he said, they're expecting Wearables, Home, and Accessories to decelerate compared to Q1.
Apple's Q2 was excellent for the company, which demonstrated there is more room to grow based on the new Macs, which will help redefine Apple PCs as working machines and new phones which are ready to ride the 5G elevator. And, that's even before Apple's announcement in April of a pretty new iMac desktop with M1 and a powerful new iPad that blurs the line between PCs and tablets.
What do we think?
Stock watchers are disappointed that Apple shares didn't take off on the news of another great Apple quarter. To read the stock picker sites is to court insanity as explainers pull technical analysis out of their black magician hats and make all the good news disappear. The truth is Apple is an expensive stock, and Cook and Maestri put a bit of a downer on their outlook for the near future. It's hard to blame them when half the world is dancing around like it's Mardi Gras all over again (and this time they want to get it right!), and the other half is mourning a horrendous surge in Covid-19. Right now, to try and get a clear-ish view of the near future, it is probably wise to look at the whole world because it is getting smaller.