The first third-party rendering solution for Creo comes in both a stand-alone version and a plug-in to Creo Parametric.
Rendering software vendor Luxion announces the release of KeyShot 2.3 with native support for Creo Parametric, the new CAD program from PTC that replaces Pro/Engineer. In addition, Luxion offers a free plug-in for all Creo customers that will connect Creo directly with KeyShot.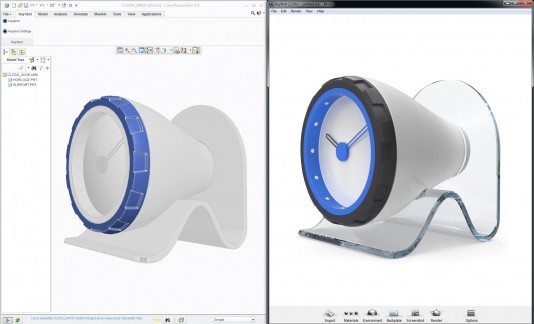 KeyShot is available for both PC and Mac operating systems; KeyShot 2.3 is available for immediate download from www.keyshot.com.
Luxion was selected by PTC as a launch partner for Creo in October of 2010. The release of the KeyShot update coinsides with the launch of Creo Parametric 1.0. With a few clicks, users can take their part or assembly file in their desired representation, and transfer it to the KeyShot real time ray-tracing environment. Once inside KeyShot, the user can turn Creo CAD data into photograph-quality images in a matter of minutes by using scientifically accurate materials and real world lighting.
The Creo plugin has the following capabilities:
Transfer parts and assemblies
Maintain complete assembly structure in side KeyShot
Transfer simplified reps
Maintain assembly and/or part appearances
Transfer all saved views
Ability to save Creo models directly into a KeyShot's own .bip format, with the need of KeyShot being installed on the machine.
Luxion will continue to support the PTC customer base by providing the ability to import Creo Parametric data natively into KeyShot on both PC and Mac operating systems.
More information: http://www.keyshot.com/keyshot/keyshot_for_creo.html.