The Foundry debuts Nuke Studio: VFX and Finishing at NAB 2014 in Las Vegas. The new product got an enthusiastic reception at a uncharacteristically splashy reveal at NAB 2014. 
The Foundry has owned composite ever since it took over the program from Digital Domain and it has grown with new tools built in response to customer requests and in collaboration with their customers. At the company's introduction of their newest product Nuke Studio, product manager Jon Wadelton joked that customers always want more, and what they want now is the ability to stay in Nuke without having to switch modules, and they want better ways to collaborate.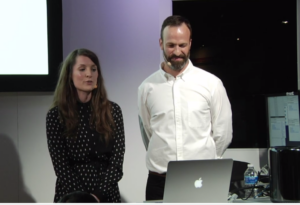 Presenters Philippa Carroll and Jon Wadelton explained that the Foundry has been on the path of Nuke Studio for a couple of years now. Hiero, which added shot management, conform, edit and review tools to The Foundry's product line could be seen as an intermediate step. Essentially, Nuke Studio combines the tools to give customers the ability to stay within the Nuke environment.
Nuke Studio combines video effects, editorial, and finishing capabilities in one application. The new product will arrive at the end of the year. The Foundry has not announced pricing, but it's assumed it will come in above NukeX, which is priced just over $8,000. Nuke Studio includes the full NukeX node-based VFX tool, which has support for 4K content and has realtime 4K playback through SDI-Out hardware. Complex shots and comps can be created in the Nuke environment. But, Nuke Studio also adds a timeline-based workflow and features like color correction and interactive conform.  Artists can directly collaborate via a hub, which lets them add annotations and versions but also content created in individual Nuke sessions can be brought in and added as versions. Any version can be accessed so clients can see various options and changes can be made quickly.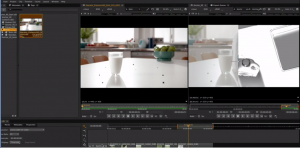 Like NukeX, Nuke Studio has hardware acceleration for effects. In Nuke Studio, effects can be added in the timeline. Nodes can be access from the timeline and they can be moved or cloned.
The Foundry has added built-in render farm functionality that uses available resources on the host computer but can also access networked resources for faster renders. People can also use their own render farm with the program.
See related stories: