Battington makes silk eyelashes; Facecake shows how they look on you.
A new augmented reality (AR) app provides the opportunity to see how new eyelashes will look on you.
Battington has been creating silk lash collections for years, but claims its new iOS app Facecake — created by a development team of the same name — is unique among beauty apps.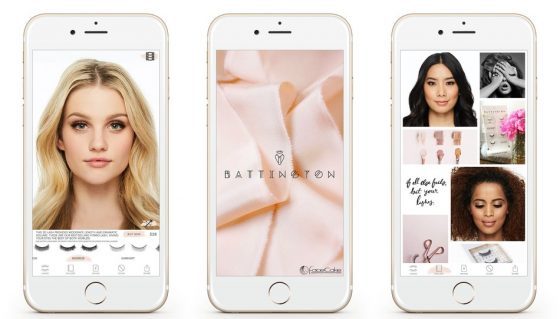 Battington is a false eyelash brand founded by Sirine Swed. The company specializes in 100% silk, handmade products which they claim last for up to 25 applications. Battington says it is environmentally and socially conscious: the product is animal-cruelty free, and 2% of each sale goes to the Global Fund for Women.
Facecake is an application developer focused on the beauty market. It already has an online shopping engine, ShadeScout, for makeup shopping using AR. The new iOS app with Battington is its first single-vendor mobile app.
Users can look through the full Battington collection and virtually try on lashes live on their face. There is a feature-enhancing filter, a tap-to-shop option, and sharing of images directly to social media.
What do we think?
All the boxes are checked: augmented reality, iOS, environmentalism, social consciousness, and sharing to social media. Of course it will do well.