A new app for Windows and Apple devices can store cloud-based presentations locally.  
The current update of Cl3ver—a cloud-based platform for interactive web and mobile 3D presentations in AEC and manufacturing—includes the ability to run presentations without a live Internet connection and enhancements to visual quality.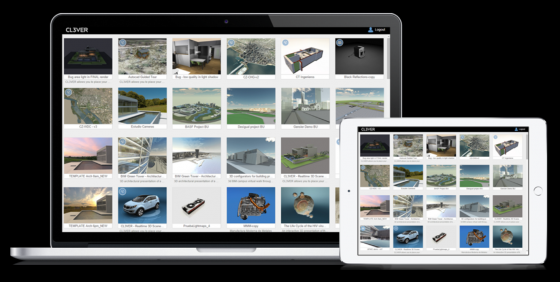 Architectural and engineering projects are often presented in situations where there is little or no internet connectivity, like meeting rooms, at events or on construction sites. To solve this problem Cl3ver 3.3 comes with a new app for Windows, OS X and iOS. The Cl3ver app allows a user to store presentations on any device, which then allows them to be viewed without the need of a Internet connection.
The app is free and shares the same user interface across PC, Mac and iOS. ?Once the app is installed on a device, Cl3ver users can access and store locally all projects created (subject to device memory limitations). Click on a thumbnail to launch a project presentation.
Also new in version 3.3 is visual optimization for iOS devices with retina display (iPad Air or superior) or Android devices using a mobile browser that supports WebGL. This means Cl3ver users can provide 3D presentations of identical quality on both web and mobile.