The two have a backlog of requests to consult on new models and production methods. Most of the medical device implant industry is still using machining to create

orthotics

.  
Industrial 3D printer manufacturer EOS has inked a partnership with Innovative Medical Device Solutions (IMDS) with the goal of advancing the state-of-the-art for custom orthopedic and other medical implants.  The two will team up to provide product development resources for creating more novel metal additive manufacturing (AM) designs.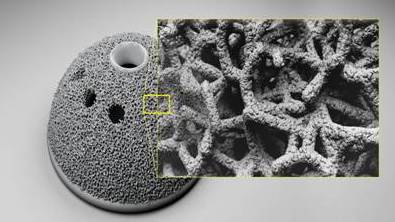 "Until now, using AM for medical devices was considered a high-technology novelty done on a few implants, but mainly used to make quick metal prototypes," says Dan Justin, Chief Technology Officer for IMDS. "However, recent advances—such as increased materials choices, enhanced manufacturing precision, and faster build speeds—have made medical product developers worldwide more willing to co-invest in developing implants made by laser-sintering systems."
EOS manufactures laser-sintering systems that can create high-quality prototypes and end-use parts. IMDS specializes in partnering with medical device customers to develop and produce new implant and instrument systems. IMDS recently bought the new EOSINT M 280 direct metal laser-sintering (DMLS) system to add to its direct manufacturing capabilities.
The two will follow up on existing requests from medical product developers for new, often custom, implant models and production methods.
The medical implant industry still thinks mostly in terms of subtractive technology for creating products, says EOS's Andrew Snow. "Instead of being constrained by traditional technology, engineers and medical professionals are now free to explore a world of new designs—perhaps with varied porosity built in, or features nested inside." One example Snow gives is the use of titanium as an implant material. Today most titanium implants are manufactured by subtractive machining, followed by adding a porous coating.  Now under development is a way to create titanium implants using DMLS to build an implant one 20-micron layer at a time. Each finished product is a functionally gradient single piece that transitions from a precisely shaped porous structure to a less porous, more solid load-bearing structure—a design with significant performance benefits. Other designs in development include patient-specific surgical guides for placement of pins, saws, and drills.
EOS and IMDS say in the long term, the partnership will provide orthopedic companies with a more cost-effective design-to-manufacturing pathway for customized implants—for instance, ultra-thin, bone-conserving hip, knee, and shoulder joint bearing implants—digitally designed from patient CT scans. DMLS can already build medical products from regulatory approved implant materials such as stainless steel, cobalt-chrome, or titanium alloys.
Our take
Two heads are better than one, we have been told since childhood. In this case, a partnership of the hardware and software sides should do more than benefit their bottom line; it should significantly advance the state-of-the-art for custom orthotics. We look forward to the day when every patient who needs a bone replacement will be provided with a digitally created, 3D printed perfect match.