The VGX K2 will deliver Kepler-level graphics performance from the data center. Citrix is on-board with virtualization support.
Nvidia today announced the launch of its first GPU card designed specifically for use in a virtualized enterprise data center. The VGX K2 offers cloud-based workstation capabilities, allowing high-performance graphics and GPU compute to be delivered as a virtualized workstation solution.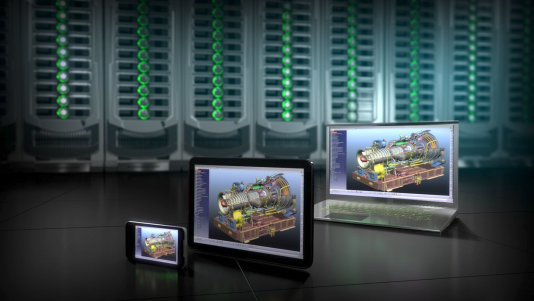 Today's announcement marks the release of the K2 to server vendors, who will then package it for resale. Nvidia expects vendors to start shipping VGX K2-equipped servers before the end of 2012.
The K2 is the physical extension of the VGX platform, which Nvidia announced earlier this year. VGX is enterprise server software designed to make workstation-class graphics performance deliverable to end users from a data center (cloud). The goal is to deliver high-performance capabilities to any device connected to the data center, from PCs to smartphone and tablets. As with any cloud-computing environment, centralization of resources enables increased user density. The VGX K2 will deliver all the same utility as a Kepler-class Nvidia Quadro GPU, with full support for OpenGL, DirectX, and CUDA.
Who will use K2?
Nvidia estimates a total market of 726 million enterprise computer users who are connected to data centers. The breakdown is:
100 million task workers, such as in call centers, with minimal computation needs.
400 million knowledge workers, who use typical productivity applications (spreadsheets, word processing, presentations, photo processing)
200 million power users, (using application including PLM, medical imaging, Showcase) whose productivity can be enhanced by GPU technology.
25 million designers and engineers (using application including Catia, Adobe Creative Suite, Creo), the most demanding users of graphics technology.
The VGX K2 is designed for the designer/engineer market, the smallest of the four enterprise markets but also the most demanding of GPU computing.
Other features of the VGX K2:
RAM: K2 will ship with 4GB of graphics memory per GPU
Low-latency remote display: Patent-pending remote display technology is designed to minimize the lag traditionally associated with virtual desktop computing. Nvidia estimates user satisfaction with bandwidth will happen in "megabits, not tens of megabits," according to Will Wade, Nvidia director of product management for VGX.
Power efficiency: Using Nvidia's SMX streaming multiprocessor, VGX K2 provides better performance per watt than previous solutions.
The board is the equivalent of two Nvidia Quadro Kepler cards, offering double the GPU cores of an Nvidia K5000. The K2 draws 225 Watts, and is designed to fit into servers already designed for Tesla cards. K2 GPUs will only be sold by Nvidia to server manufacturers, who will then sell it as part of a VGX-enabled server solution. Server vendors who have already committed include Cisco, Dell, HP, IBM, and Supermicro. A VGX-compatible hypervisor is required in the server; Citrix is a launch partner for the supporting required virtualization technology.
Microsoft RemoteFX already offers GPU sharing, making it compatible with K2.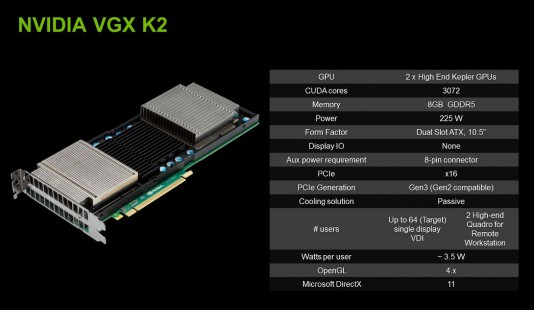 Our take
For cloud computing to become pervasive, all the capabilities of a workstation must be deliverable. We have become spoiled by the work-anywhere access our smartphones and tablets offer, and want to stay connected to work even when away from the workstation. Using VGX technology, an architect on the road can run lighting simulations from a tablet, or a Teamcenter user can document needed changes to a product in final stages of design. If a solution requires technical, interactive graphics, the VGX platform frees it from being run only on a workstation.