The publisher of Catia and SolidWorks now expects to hit €2 billion in revenue this year.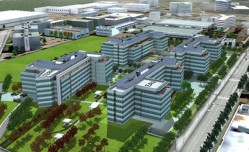 PLM vendor Dassault Systèmes (DSY: Euronext Paris) today reported it achieved double-digit revenue growth for the second quarter of 2012, ending June 30, 2012. Total revenue in the quarter was €502.9 million, ($608.9 million) up 17% (10% in constant currencies). Business was best in Europe, but flat in the Americas.
Net income for the quarter was €85.3 million ($103.3 million), up 32.7% from a year earlier.
Despite macroeconomic trends that might look unfavorable, Dassault is the second PLM vendor this week to raise its revenue forecast for the remainder of the year (PTC is the first). The company now believes total revenue will top €2 billion ($2.4 billion) in 2012.
Dassault Systèmes revenue topped half a billion Euros, a first for the second quarter. SolidWorks commercial seat sales topped the half-million mark. DS stock rose 3.5% to 78.90 in early trading on today's announcement.
Software revenue (new licenses) rose 11% in constant currencies compared to the same quarter a year ago, to €457.8 million ($554.2 million). Services and other revenue increased 6% in constant currencies, to €45.1 million ($54.6 million).
PLM software revenue (primarily the Catia and Enovia product lines) was €356.3 million, up 9% in constant currencies. Revenue from the SolidWorks division was €101.5 million ($122.8 million), up 15% in constant currencies. Commercial seats of SolidWorks rose 16% year-over-year to 13,844.
Revenue by regions:
Americas revenue in 2Q12 was €139.2 million ($168.5 million), essentially flat from a year ago. Dassault attributed the results to "lengthening sales cycles."
Europe revenue was €228.2 million ($276.2 million), up 19% in constant currencies;
Asia/Pacific revenue was €135.5 million ($164 million), up 8% in constant currencies. Dassault says Korea and Japan showed "continued improvement."
Cash per share on June 30 was $14.45, down three cents from three months ago.
Who knows the Euro?
Today both Dassault Systèmes and PTC revised their full-year revenue estimates, partially based on a better-than-expected April-June quarter. But the two do not see eye-to-eye on how the Euro will affect revenue. PTC is looking ahead and expecting €1 to equal $1.21, a drop of ten cents from their initial 2012 expectation, while Dassault is holding to €1 as being equal to $1.31 in the months ahead. It will be interesting to see which company has the better prognosticators, the one based in Boston or the one based in Paris.
Nine of our exclusive charts follow.
L. Stephen Wolfe, P.E., a contributing analyst for Jon Peddie Research, provided research for this report.