Take a sneak peak at the wide array of projects selected for this year's screenings.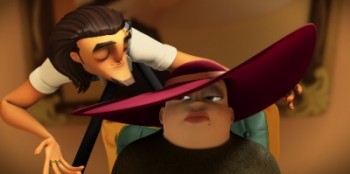 Siggraph has released the official trailer promoting the 2012 Siggraph Computer Animation Festival; the video is below. This year's selections will be featured during the conference through a series of daily Festival Screenings and the popular Electronic Theater, allowing attendees to get a glimpse behind the making of computer-generated effects, visualizations, and animations.
The Siggraph Computer Animation Festival is the annual festival for the world's most innovative, accomplished, and amazing digital film and video creators. An internationally recognized jury receives hundreds of submissions and presents the best work of the year at the annual Siggraph conference, this year in Los Angeles August 5-9, 2012. Selections include outstanding achievements in time-based art, scientific visualization, visual effects, real-time graphics, and narrative shorts.
The Computer Animation Festival is recognized by the Academy of Motion Picture Arts and Sciences as a qualifying festival. Since 1999, several works originally presented in the Computer Animation Festival have been nominated for or have received a "Best Animated Short" Academy Award.
Music credit on video: Music by Twin Atlantic – "Old Grey Face" (L'Amour La Morgue Remix), Album: Vivarium, Courtesy of Red Bull Records.
See also the GraphicSpeak article, "There's an Oscar winner in this list."