Dassault adds on to its automotive design capabilities for Catia and Simulia. 
Dassault Systèmes announced the acquisition of SFE GmbH, a German engineering company with tools for automotive design. Founded in 1984 by Hans Zimmer, SFE's major products are used for conceptualization and design evaluation. Dassault says the acquisition will enhance its Catia and Simulia product lines.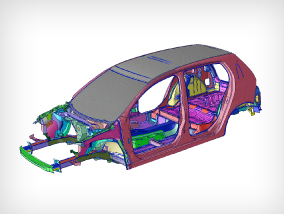 In the published announcement of the acquisition, Dassault Systèmes CEO Bernard Charles says there are opportunities for SFE's technology beyond the automotive industry. "I see numerous places where this capability can bring value to other industries, not just transportation and mobility," he said.
SFE's tool Concept is used in the body-in-white phase — the design and building of the car frame. It is at this stage  the final contours are decided. SFE's customer list includes General Motors, Porsche, Fiat, Chrysler, Daimler, Ford, BMW, Volkswagen and others.
The company's earliest product was Akusmod, a tool for evaluating comfort and acoustics in automotive interiors.
In the SFE's announcement of the acquisition on their site, founder Hans Zimmer handed over the reins of the company to Philippe Laufer, CEO of Catia brand and said, "SFE products will not only continue to be maintained but will be developed further to augment the footprint." The Berlin SFE employees will remain in charge of quality assurance and "innovative development" and SFE's China subsidiary will represent the SFE and 3DS portfolios.
No purchase price was announced.
Our take?
Last year, in November, Dassault's competitor Siemens PLM acquired LMS International based in Leuven, Belgium another company with simulation and conceptualization tools for automotive frame design as well as mechatronic test tools. Both companies are competing fiercely in the automotive design market. Obviously, it doesn't hurt to build up the supply of competitive weapons, er, products.