The user group party celebrated CG heroes and new technology. Naiad fluid simulation was shown running in Maya. 
Autodesk disappointed the folks a bit this year at Siggraph. Instead of renting their typical large booth this year, Autodesk spent their money more directly on their customers—always a good idea. The company threw a big-bash user group meeting off site, which featured an hour-long presentation of the community's version of rock and roll stars, including Jon Landau, who showed the audience early tests for the production of the Avatar sequels, and Peter Muyzers, who brought some clips from Neill Blomkamp's sci-fi thriller Elysium. Blomkamp is well loved at JPR for the creation of District 9, and this movie too shows the same gritty, fearsome future as District 9 but with bigger stars including Matt Damon and Jodie Foster. The VFX team working on the film includes Image Engine, ILM, MPC, Method, Whisky Tree, Embassy, 32Ten Studio, and Animatrix.
The current head of M&E, Chris Bradshaw, was at the user event where he made a point of emphasizing Autodesk's commitment to the M&E line, a point he was at similar pains to make at NAB this year. Bradshaw repeated a comment we've heard from other ven­dors in the M&E industry—that the service providers in the industry are negotiating some tough business con­ditions, but at the same time there has never been a bigger demand for com­puter graphics technology. Increasingly, computer-generated effects are used for every movie made for commercial dis­tribution.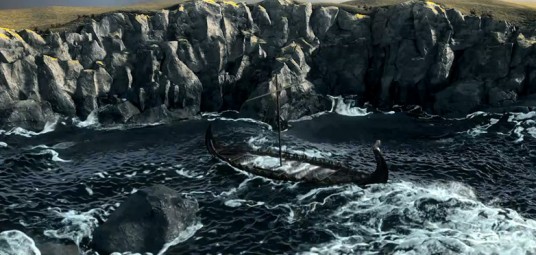 There was a time when Autodesk was known for its preference for pro­prietary technologies in an effort to keep the work all in the family. Those days are gone as studios demand bet­ter ways to share data across content creation tools and to better collabo­rate. Autodesk pledged support for open standards, and in addition to their own FBX file format for 3D, they also sup­port Open EXR and Alembic. As described in a separate article, Autodesk also unveiled FBX Review for Windows, which gives artists and animators a tool to review 3D models, environments, and character animation.
At the user group meeting, Autodesk also showed Bifröst working within Maya. Bifröst has been developed using technology acquired with the Naiad fluid similar last August. Previously Naiad Studio was a standalone used to create watery effects, which could then be exported to a variety of products including 3ds Max, Maya, LightWave, and Modo. At the time, many in the industry thought the technology would go to beef up Max's limited effects ca­pabilities such as particles. The fact that it was shown working in Maya with nary a mention of Max has set off much weeping and wailing—weeping and wailing that was primed to start as a re­sult of Autodesk's seeming disinterest in Max for the M&E side of the biz. The general assumption is that Autodesk is focusing on developing Max for visual­ization in design, where it is widely used and where Luxology has made consid­erable inroads. There is an informative discussion of this on the Max Under­ground site. Naiad developer Marcus Nordenstam waded in to say that just because Autodesk showed Bifröst run­ning in Maya doesn't mean the technol­ogy will never find its way into Max, but then again, he didn't promise it will. He suggested that users could see Maya as a really great Naiad Studio with all sorts of extra features. As you might imagine, the Max folks were buying it.
Our take
Trade show booths are very expen­sive, and Autodesk probably felt that it was much more important to talk to their users. At the same time, the com­pany's competitors certainly were enjoy­ing pointing to the unusually large area taken up by booksellers where the Autodesk booth should have sat. Autodesk is seeing very strong competition as con­tent creators have access to a wealth of tools, many of which are relatively inex­pensive. The M&E group is under new management. We're not sure whether we're seeing a new way of doing busi­ness or a simple retrenchment as the company takes stock of the market and its industry.