Integrated products for reality capture
Bentley Systems is building a significant ecosystem around its ContextCapture products. Over the past two years, Bentley has been showing the building blocks of its reality capture system, which it has been building since its acquisition of Acute3D in 2015. The company has announced partnerships with Siemens and drone maker DJI. At the SPAR 3D Expo and Conference in Houston, Bentley demonstrated how it is knitting those components together with technology from its portfolio. The result says Bentley, is a system that makes reality capture and processing a capability available to large and small companies in a range of disciplines.
Bentley's ContextCapture products now include cloud processing, a mobile app, and photo planning. ProjectWise is at the core of Bentley's new ContextShare capability. It is used to manage, share, and stream reality meshes and their input sources to project teams. Bentley has used its Navigator software — which enables data to be combined across applications — to create Navigator Web to provide high-performance streaming of even very large meshes through the browser to desktops and mobile devices.
ContextCapture supports multiple camera formats from high-end cameras to mobile phones and data collected via scanners. The reality meshes can be used for design, analysis modeling, and construction. The company has long championed the idea of capturing real world data from facilities and machines in operation to update information about these assets and monitor performance. On this front, input from IoT technologies also come into play. Bentley calls this capability continuous surveying, and Bentley CEO Greg Bentley says when they started developing ContextCapture and rolling it out they were worried that established surveying companies might be slow to adopt new reality capture techniques such as drone-based cameras and mobile phones. Instead he said at the Spar convention that the company has seen good uptake by survey companies.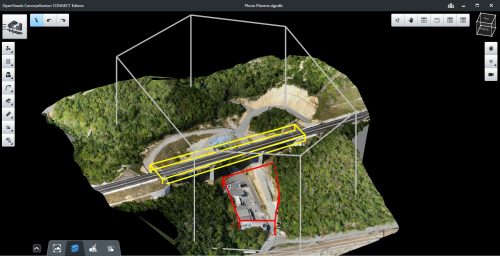 Support for multiple formats from cameras and scanners enables high-quality data capture with convenient mobile devices in the air and on the ground and, if necessary augmented by laser scanning. Bentley's photo planning capability helps engineering and survey operators plot optimal camera positions and flight paths for UAVs for the required level of accuracy and for critical inspection points.
Bentley says the ContextCapture mobile app helps extend ContextCapture to everyone on a team and combined with the cloud processing service enables content to be delivered to any client from mobile to desktop. Navigator Web knits content together and delivers content through any browser with progressive levels of detail.
Bentley says ContextCapture is scalable, thanks to the parallel processing capabilities of the cloud services, which is taking advantage of GPU processing. The company says they're able to use the new .3sm format to provide multiresolution support.
ContextCapture uniquely enables reality modeling to scale from city models to site models to component nameplates. Users can now take advantage of cloud services' inherent parallel computing to speed processing of reality meshes. Scalable mesh technology enables multi-resolution inputs through the new (.3sm) format. The .3sm format is new with the release of ContextCapture.
Bentley's ProjectWise is already widely in use in infrastructure and construction projects. The company has teamed with Microsoft as its partner enabling a connected data environment. It supports hybrid environment – including public and private cloud strategies. Also Bentley has enabled a flexible metering system for ProjectWise ContextShare which charges only for actual use.
What do we think?
Bentley has done a good job of staking out territory in reality capture and the company has tailored it to its customers in infrastructure. They have developed a more integrated system that fits into their ProjectWise document management tools and has also used their more clever tools such as Navigator to fit together huge amounts of data to stream. You also just got to love how they've used cloud based tools for point cloud data and they're doing it all on Azure.
Bentley often seems to have a much better sense of what they want to do with the tools they acquire than their competitors, and they've also done a good job of working with their competitors as in the case of their work with Siemens.