The market is rapidly growing but barriers to innovation loom at every turn.
By Kathleen Maher
The 10-year-old China Joy trade show is difficult for outsid­ers; heck, it's a difficult trade show for anyone. The conference has been developed primarily to foster the game industry within China. The show's core is the giant B2C halls, the consumer showcases for the latest games. The B2C exhibits are a horrendous crush of eager kids, many in costume, thrilled with the huge screens and deafening sounds of game movies and battles fought large. In addition to the large Chinese opera­tors including Tencent, NetEast, and Shanda, U.S. companies EA and Bliz­zard also blasted their new games for the China market.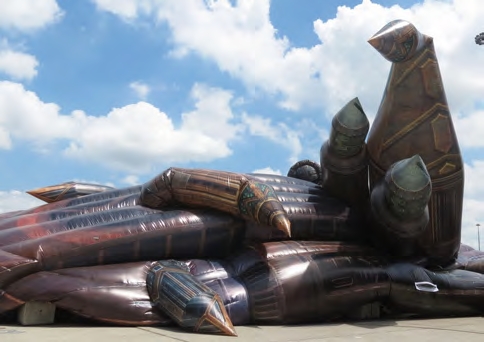 The B2B portion of the show is a smaller, quieter (but not by any stretch of the imagination quiet) conference closed to the hordes and not even all that welcoming to paid attendees and exhibitors. For most attendees, en­trance and exit to the conferences is limited. The RF-enabled badges count off the number of times one goes in and out, and when you hit your limit … come back tomor­row. There were only a few orga­nizations recognized as accredited press, and the rest, the foreign press, were awarded one-time-only passes.
To be sure, after dealing with the huge, gibbering masses of people claim­ing to be press at E3, it's understandable that China Joy has no interest in accom­modating the self-appointed fan press, but the trade show's restrictiveness is also another example of how different it can be to do business in China.
China Joy is a government-run op­eration. It is sponsored by the General Administration of Press and Publication of the P.R. China (GAPP), the Minis­try of Science and Technology of the P.R. China, The Ministry of Industrial and Information Technology of the P.R. China, the General Administration of Sport of the P.R. China, the National Copyright Bureau of the P.R. China, and the Shanghai Municipal Govern­ment. Nevertheless, the show is run as a money-making operation.
The primary exhibitors at the B2B portion of China Joy were Chinese pub­lishers, developers, and service provid­ers. The major game engine companies showed up and so did middleware pro­viders including Havoc and Natural Motion. AMD and Nvidia took big booths and dominated the entrance. Nvidia's new Dawn demo was show­cased while kids in the AMD booth took turns driving the games on the In­finity display.
Making deals; making new friends
The Chinese game industry is domi­nated by online gaming, and the busi­ness is primarily home-grown. Accord­ing to Chinese banking organization Bocom International, Tencent accounts for 46% of China's online gaming busi­ness. It's followed by NetEast, which has 15%, and Shanda has 10%. Games are primarily free to play. It's also strongly regulated by the GAPP. Even though the industry is successful and growing, it is criticized for a lack of originality; Chinese game companies are part­nering with Western companies for an infusion of new content.
In a deal announced in June, Tencent announced that it has taken a minority stake in Epic Games. Epic builds the Un­real gaming engine and owns the lucra­tive Gears of War franchise. In mobile, it has the iOS hit Infinity Blade. Last year Tencent acquired Riot Games, a Los Angeles–based company that makes the hit online game League of Legends. The Unreal Engine is already being used for Tencent games, and the company li­censes the Crytek engine as well. A clos­er relationship with Tencent could open the doors for more innovative game de­velopment and more collaboration be­tween the companies for Epic games in China. Just following the announcement of the deal between Epic and Tencent, Tencent and Blizzard announced plans to release Call of Duty as an online game for the China market. As you can imagine, Tencent's investment in Epic has encouraged speculation about Gears of War coming to the Tencent family.
Epic has also invested in China. The Chinese company Yingpei uses the Epic Engine for Mercenary Ops, a game simi­lar to Gears of War. Epic has invested in Yingpei.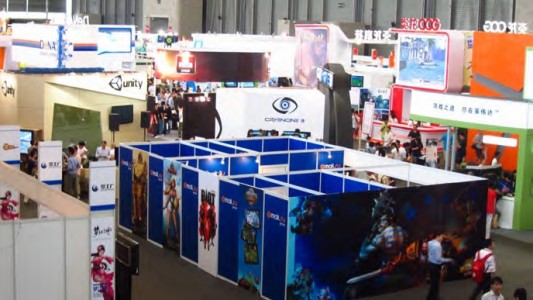 Other U.S.-based game companies are making a play for the Chinese market, and they're teaming up with Chinese partners, which, given the na­ture of the Chinese gaming business, is pretty much a requirement. The Shang­hai Daily reported several important al­liances. Blizzard's Diablo 3 is expected to blow the doors off the China market when it's finally approved and released. Blizzard is partnering with NetEase to bring Diablo 3 and StarCraft 2 to China. The Diablo 3 release is expected to happen within the next few months.
Zynga was all over the place at China Joy. The company even designed new characters to publicize the confer­ence. The company is making a pitch for Chinese game developers to cre­ate games for Zynga overseas. Zynga has also announced that its IP for the CityVille game is coming to a game for Tencent. The new game will be called Zynga City. Since over 80% of Zynga's revenues now come from Facebook games, the deal is an example of the ways in which Zynga is exploring new revenue sources outside of Facebook.
In yet another deal, Age of Em­pires developers Robot Entertainment are teaming with China's Yodo to create a Chinese version of the game.
The upside of the China market is that gamers are loyal, while Blizzard in the U.S. has had to report a drastic fall-off of subscribers as gamers finally tire of World of Warcraft and move on to other titles. Chinese gamers tend to stick to their favorites. If companies can create hit games in China, they can hope to have a long run with them.
Future markets
With more than 1 billion mo­bile phone users, it seems obvious that China would also be home to a boom­ing mobile game market, but such is not the case. It's just not shaping up to be very attractive for developers. The free-to-play model means that games have to attract a huge audience with enough people who will pay for magic swords, armor, special powers, and other imagi­nary prizes. In reality, though, many mobile games have a life span of only a few months as gamers gravitate to what's new and glittery and quickly abandon it for the next new game.
At a panel discussion on the fu­ture of mobile games, panelists admit­ted the mobile game market is flooded with games and few, very few, are mak­ing money. Japanese entrepreneur Jia Shen, co-founder of RockYou and now Chocobot CEO, says the infrastructure is still challenging for mobile. He notes that battery life is still a major issue and limits the amount of creativity in game development.
What was obvious and also unsaid is that the money is a real limitation on video games. The panelists talked about the low cost of mobile game de­velopment, which they said enabled in­novation, and yet they also complained about a market saturated with low-cost games. Small game developers cannot survive on their own—they need publishers to help them publicize their games and manage revenues. The downside of a strong publisher ecosystem, commented the panelists, is a lack of innovation. The publish­ers tend to support only those games and game genres that have worked in the past.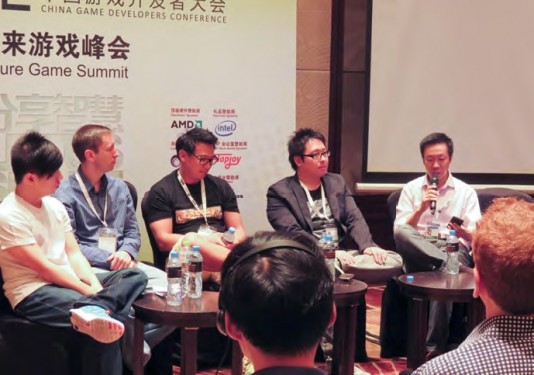 Jia Shen noted, too, that the older models are changing and maybe for­ever. Today, he said, iOS and Android, the App Store, and Android Play are the real publishers. They can publicize games, and they can dictate how a game will make money. Facebook was also recognized as one of the major game publishers in the new world for casual games, and the panelists agreed that Facebook was far from a friendly envi­ronment for game developers. Facebook has been slow to adapt to the mobile market, and the panelists find hope in this. They hope they can figure out how to crack the mobile market with their games before Facebook does.
At a separate forum at China Joy, Khronos president Neil Trevett gave a presentation. He talked to Chi­nese game developers about the need to create games that truly take advan­tage of the characteristics of mobile platforms. He described it as a unique opportunity that is not available to PC developers. Khronos' newest APIs are being developed to give developers a consistent way to use sensors, touch, GPS, etc. He too noted that just as im­portant as using all the bells and whis­tles, it's important to be careful with battery use. In the mobile world, it's just as important to know when to turn things off as it is to turn them on.
There is clearly a huge opportuni­ty for gaming in the mobile market if companies can figure out how to fully exploit it. Bryce Johnstone, who came to China Joy for Imagination Technolo­gies, told us, "Mobile phones are going to have the graphics capability of an Xbox 360." Johnstone, who is a senior manager for third-party relationships at Imagination, says that when he talks to developers, he pushes them on the increasing graphics power of the mo­bile devices. Johnstone echoed Trevett's comments, saying the game industry has been to slow to push game design to take advantage of the mobile platform capabilities.
Mobile gaming and mobile social networking should come together, and they could drive each other. Right now, though, that's not hap­pening. The consensus attitude at China Joy was that the mobile en­tertainment industry is still finding its way. It's not the same beast as PC gaming or console gaming any more than Chinese gaming is anything like gaming in the U.S. It's also just as true that mobile gaming has the potential to become a huge business … someday.
Platforms and processes
At China Joy we were told the Unity Engine has a huge following in China—and elsewhere of course. It's free to use and try out, and its licensing mod­els are reasonable when it's time to go pro. It's also available for all the major platforms and provides a consistent development environment. In contrast, HTML5 is still more a technology than a platform with few tools to help de­velopers. Likewise, WebGL is just now arriving offering web developers the ability to create 3D content within a browser.
Giant Interactive caused a stir at China Joy with its announcement that it will be launching six browser games. In addition, its popular Zhengtu will be transplanted to the browser game plat­form. At least one of the games will take advantage of the Unity Engine 3D plat­form, and they are also planning two social games.
In addition, Shanda Games an­nounced increased funding for new game development. Shanda has a capital fund to encourage the development of browser-based and mobile games. CEO Alan Tan said the company is seeking outside investors for its 1 billion yuan capital fund. Currently, Shanda is devel­oping new versions of its most popular games for casual game players and mo­bile games players. Tan told Bloomberg, "We want to be China's leading opera­tor and developer of mobile games." He also said that he did not expect games for mobile platforms to be a major con­tributor in the near future. The end game; lessons learned
The Chinese game industry is powerful and it's growing, but its success is on Chinese terms. It's a closed market where consoles are technically not al­lowed—though there is a thriving black market. Online gaming in China has de­veloped as much from the restrictions placed on entertainment in the country as it has by appealing to young gamers. Government officials call the shots. There's a great deal of protectionism and regulation, so it's ironic when the regulators are the ones complaining that the games are not innovative enough and developers are not creative enough. And, while the Chinese market contin­ues to grow, that growth has slowed.
However, to be fair, we should also point out that while there has been con­siderably more innovation in the West­ern game markets, unusual and innova­tive games generally aren't the ones that make money, and the trends have long favored franchise games that simply plod on in the same boring tracks.
Internet cafes are still a strong cen­ter for gaming, although, increasingly, people are using their home computers for games. That's because increasingly people have computers at home. The PC industry is growing rapidly in China, which will inevitably change the flavor of gaming in China. Maybe.
The online, free-to-play model has been dictated in China because piracy represents a huge threat to more expen­sive games like the first-person shoot­ers that are so popular in the rest of the world. Consoles are illegal. And, now we're seeing that mobile game develop­ment using the free-to-play model is just as difficult in China as it is in the rest of the world. Oh, and let's mention again that the industry is carefully controlled and regulated by government agencies, which encircle Chinese companies in a cozy, protective blanket and also strong­ly encourage game content to focus on Chinese themes and history.
Right now the environment doesn't seem all that encouraging for innova­tion. There is one hugely important fac­tor that could make all the difference, and that's money. If some of the new games coming to the Chinese market make lots and lots of money, why everyone else will immediately jump on board and copy them. And, before this sounds too smug, the point is, that's pretty much how it works all over the world.
Kathleen Maher is Editor-in-Chief of both GraphicSpeak and Jon Peddie's TechWatch, published by Jon Peddie Research.