Payback in productivity goes beyond raw graphics power.
By Tom Lansford
[Editor's note: Tom Lansford is Editor of CADplace.fr, a multi-lingual CAD news website based in Paris.]
CADplace recently visited the graphics team at AMD where we not only had Eyefinity explained, but AMD gave us a personal demonstration as well.
AMD FirePro graphics provide high-performance, application-optimized professional graphics for designers, engineers, and architects, or anyone else needing high-powered, reliable graphics. From what we saw, Eyefinity is an amazingly productive addition to a professional workstation environment.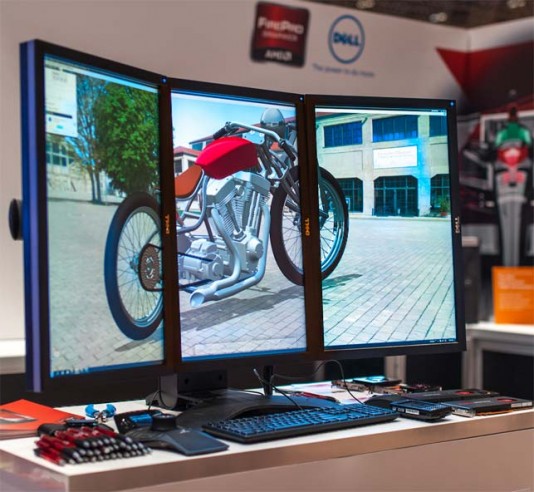 With Eyefinity, we are not talking about raw graphics power or application-specific performance tuning which, granted, are important productivity aids. With Eyefinity, the pay-back in productivity comes in the form of a completely flexible multiple-display working environment.
Not that long ago it was rare to see multiple outputs on a graphics card. Today if you are a professional working with CAD, visualization, simulation, and analysis tools and you are not using at least 2 high-resolution displays, then you should re-think your workstation configuration. Based on personal experience and research, multiple displays provide a very significant increase in productivity. This makes adding a second monitor to your workstation the easiest means of boosting your performance. [Editor's Note: We are reminded of Peddie's Second Law of Computer Graphics: See more, do more.]
But Eyefinity goes far beyond this. First of all, FirePro cards all support more than two displays. AMD proves their dedication to professional productivity by supporting five displays with Eyefinity on the entry-level member of the FirePro family. And Eyefinity as a feature of these products is built into the FirePro drivers.
Among the features of Eyefinity, you will be able to :
Drive multiple monitors (up to six) from a single graphics card;
Dynamically, and simply, rearrange the monitors within the Eyefinity configuration—in other words, no need to physically rearrange the monitors or the graphics card cabling;
Switch between different monitor configurations: horizontal, vertical, rectangular arrangements are possible;
Use a configuration with each monitor being independent, or
Use a configuration with all the monitors acting as one, single desktop;
Create, save, and switch between multiple Eyefinity configurations.
When we visited AMD in their Paris office, Arnaud Touré introduced us to the Eyefinity feature-set and allowed us to film the demonstration below. In this short video, Touré walks us through the initial configuration, rearranging the displays using Eyefinity, the setup of a system with six independent HD screens, the setup of one virtual desktop running on six displays as well as bezel adjustments.

AMD's Arnaud Touré demonstrates setting up a six-display Eyefinity system. (Source: CADplace.fr)
Related
CADplace UK: AMD FirePro and Eyefinity at Dassault Systemes Conference