A context-sensitive interface makes for a sparse screen and a pleasant workflow.
Siemens has been showing its Catchbook drawing tool for over a year now. We saw it most recently at the Siemens PLM World Conference. It's been a big hit in demonstrations. It's designed as a sketching tool that integrates with Siemens Solid Edge ST 9, but it's also a convenient drafting tool, or would be if one could instantly figure out how to use it. Catchbook is free to download but requires a $5.99 annual fee to actually use. Version are available for iOS, Android, and Windows 8.1 and 10.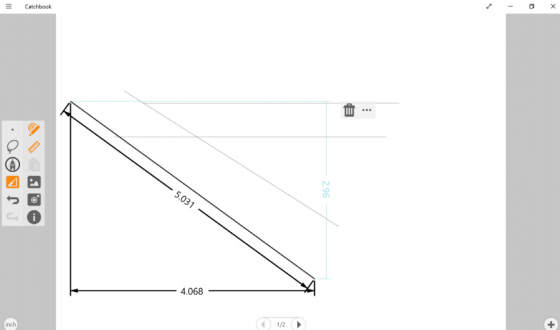 It's likely Siemens will improve a clunky buy-in process. The software is free to download and seems to have free features— but not if you actually want to accomplish anything. For free you can sketch in the miserable way one always sketches on tablets and computers, but it takes the activation fee to be able to straighten lines, draw curves, add dimensions, etc. It has a nice context-sensitive interface that stays out of the way until it's wanted. It's not expensive and it does the job, but its main advantage is as an add on for Solid Edge and perhaps as an entry point for new users curious about working with Solid Edge.