Printing at 21-micron density at 30 million drops per second. The high-end density comes at a high-end price.
HP's entry into the 3D printing business has been one very long introduction. They started talking about it more than two years ago on a high level; information on the website has become increasingly detailed. The company performed a little show-and-tell tease at SXSW earlier this year, and the website has been gradually filling out the details. Now, finally, HP has officially launched its new printers and is taking orders. The first Jet Fusion 3D printers are expected to ship by the end of the year. It's HP's long hello.
But still, for all the fanfare and careful planning, it is still the start of a very long game plan.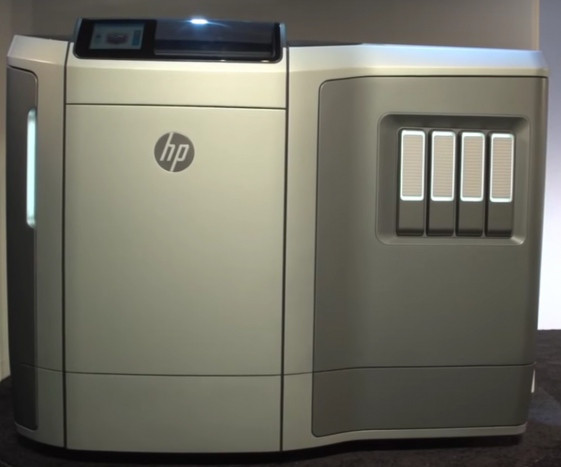 The new HP Jet Fusion 3D Printer is sold as two units, the printer and an optional cooling station. As we and everyone else interested in this technology has speculated, HP is building on its ink jet expertise. The HP system uses a Build Unit that looks a lot like a giant print cartridge, and indeed, that build unit carries the material and the intelligence to build the part. It is slotted into the base of the printer, which then goes to work in a two-pass system, laying down a layer of material and following up with passes that lay down fusing and detailing layers and exposing them to "energy," which fuses areas according to where the detailing and fusing materials have been laid.
Once the print has been completed, the build unit is wheeled out of the printer to make way for a new build unit, and moved to the cooling station, which speeds up the cooling process. HP claims that speedups throughout the process mean that parts can be printed 10x faster than with FDN and SLS systems.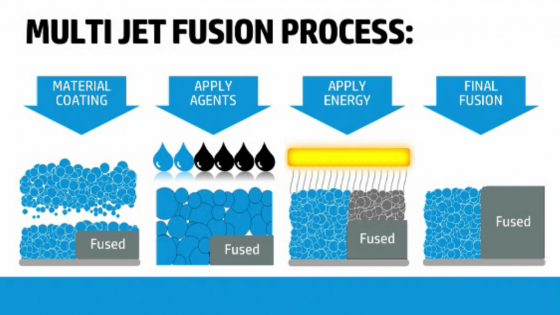 The print heads can lay down material—at least the current material—at 30 million drops per second. HP describes its printers' functions in terms of voxels, 3D volume units of approximately 21 micros or .02 millimeters each, and claims parts can be built at over 340 million voxels per second.
HP plans to ship two models: the 3200, which has a capacity of 20 kg of material and will be priced at approximately $120,000, and the 4200, which can consume 200 kg of material and is priced at approximately $200,000. In addition, HP says the 4200 has more parameter control, 30% lower cost per part, and a faster cooling unit can increase end-to-end speed by 25%.
It could be a replicator, but not today
HP has posted multiple videos on its website, which range from informative to giddy to magical realism. Currently, the company's new Jet Fusion printers use PA12, a nylon material, and the parts shown are a dark charcoal color. However, and obviously, since they're calling their technology Multi Jet Fusion, HP's future plans are for the availability of more materials and colors.
HP is also taking an open approach to materials development. Materials designer Arkema has signed on with HP to develop materials for the Jet Fusion printers. The company develops several 3D printing materials, including Rilsan fine powders, Rilsamid polyamides, Kynar resins, and Pebax copolymers. Arkema's customers make products in consumer goods, automotive, aerospace, sports, and healthcare markets. The company says all of their customers could benefit from the availability of more 3D printable materials.
HP says they expect to have more news to come on the materials front.
The ability to create models using multiple materials as well as colors not only enables the production of prototypes that more closely resemble real-world products, the process can also produce end products. Also, the ability to uses multiple materials opens up the potential for creating new materials and even imbuing manufactured products with kinetic capabilities—self-folding, coiling, constrained flexibility, etc.
Siemens stakes out a position in the additive manufacture ecosystem
HP has big ambitions for its printer technology, and the Siemens user conference was a pretty good place for HP to spell it out. The companies say HP's coming printers will move 3D printing from prototyping to full production.
On the Siemens side of the equation, Siemens says it will collaborate with HP to improve interoperability with Siemens software.
At the Siemens PLM Connections conference recently, Siemens said it is developing an additive manufacturing tools for design and analysis that will work well with HP's printer and will allow better print control than previously available, including control of material characteristics "down to the voxel-level" up to ten times faster and at half the cost of current 3D print systems.
Siemens says control over part and material characteristics at the voxel level "could have a massive influence on what designers and engineers can do with product innovation and manufacturing."